Drive North: Canada Rules
We've been vacationing in Canada the past couple years, and we love it. Naturally, the exchange rate is great for Americans, but it's just great up there anyway. Friendly people, great food, a real respect for heritage, Tim Horton's coffee and donuts (Eeek, isn't that a chain? Yes, but I have an explanation), good micros and brewpubs, and a different look on the world. Here are some sites to get you started.
Drive north. You can't lose in Canada.
Canadian Tourism Commission official site: kinda glitzy/web-geekish, but good info.

Canada Kicks Ass is one wild site, trying to singlehandedly subvert Canada's reputation among some as "upright and dull." The site's fun, over the top sometimes, but refreshing.
Of course, there's also Canadian whisky, right? Check out my own small but growing page on this tipple (especially you Wiser's fans!).
Bed & Breakfast Canada Online: outstanding source for finding just the right B&B anywhere in Canada. I've used this service a number of times with 100% satisfaction, and met some great people.
Nova Scotia Tourism: great jumping off point for visiting Nova Scotia.
Bar Towel: a great Toronto-area beer-locating site, now spreading out into greater Ontario.
Guelph: one of my favorite towns in Ontario. Ah, yes, that is largely because of the presence of Wellington brewery (one of North America's finest) and the Woolwich Arms (one of the world's finest taverns). But what more could you ask?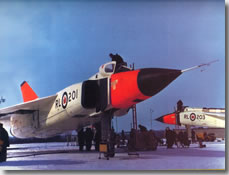 There are many Avro Arrow sites, I think Arrow Recovery Canada is the best. If you don't know what the Arrow is, or why it's so important to so many Canadians, it's a fascinating story of aviation history and national identity. See why a jet aircraft that never reached production still resonates with the Canadian people.
The only place you can see a genuine part of an Avro Arrow is the National Aviation Museum in Ottawa, a great experience. The collection is not as deep as the Smithsonian's Air & Space Museum, but because it's Canada...you can get right up to the aircraft. Fantastic. They also do flights in classic aircraft! My plane-loving son and I enjoyed this tremendously.
More to come...
Good Canadian beer
C'est What? (brewpub, Toronto)
Arrow Pubs -- excellent pubs in:
And check out their list of Ontario brewers!