New York Breweries
Is Here!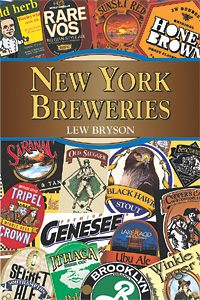 New York Breweries is released and available, as of July 18. If you'd like to get a taste of the book, I'm listing all the breweries and regions here, with a bit from the manuscript for each one, just as a teaser. Remember: this is a book about the whole experience, so the quote might be about the beer, the people, the food, a local bar or attraction, or even the parking. It's all in there! If you want to buy it, here's how.
We're starting to get reviews:
Jack Curtin at the Beer Yard website: "If you liked the Pennsylvania book, you're surely going to like this one. Hey, what's not to like? ... All of this helps raise "New York Breweries" above the level of mere "beer" guide and into the broader realm of "travel" guide. I can't imagine that anyone on the road in New York wouldn't manage to find something useful and interesting in these pages. Best of all, "New York Breweries" is pure Bryson, with his personality and enthusiasm leaping off the page. The result is a book which, while appropriately functional and utilitarian, is also just plain good reading."
Rick Armon and Patrick Flanigan in the Rochester Democrat & Chronicle: "New York Breweries is written in a friendly, readable way, and we would expect nothing less from author Lewis Bryson -- a guy we enjoy chatting with because he knows his stuff and isn't a beer snob. The book is a must-have for anyone who's ever tried to track down a good local beer when visiting a strange town."
Publishers Weekly ("Books in Brief"): "...helpful and entertaining guide. His entries are helpful and exhaustive. Bryson is an enthusiast, and his passion, whether for microbreweries or "the big guys," is contagious."
The Malted Barley Appreciation Society (MBAS). a Brooklyn homebrew club, had some nice things to say about the book in a recent newsletter: "Lew Bryson's new book, New York Breweries, helped remind me what a healthy and interesting brewing scene we have going on all over New York State. ...also includes local attractions in the vicinity of the breweries, making New York Breweries a valuable travel guide."
Brewery
Area
Quote from the manuscript

Big Guys

This is the heart of A-Bís story and of their success. They do things their way, they are unafraid to spend on fanatical stretches of quality, and they plan for the future. I have a lot of respect for that.

Big Guys

My first full beer was a 16 oz. returnable of Genny Cream, ice-cold and dripping with condensation. The first keg I ever bought was a half of Genny Cream for my 21st birthday. We put it in a garbage can packed full of snow and drank it for three days. This is significant stuff to me.

Big Guys

Saranac Black & Tan forthrightly defines this pre-mix "style" for me. I still remember my very first bottle, on the shores of Keuka Lake. I sipped, and then I sputtered "Black & Tan? Where the hellís the Tan?!"

Capital Area

But the beer that laid me out was Whiskey Dickís Porter, a batch of Prohibition Porter that Drew aged in a Jack Daniels barrel. The beer was "good night" in a glass: a huge vanilla nose, very thick body and rich texture, and enough malt to stand tall in the whiskey. Beer-booze candy.

Capital Area

There the brewery sits, gleaming copper and stainless steel, looking very nice and very much like a brewery. But thatís probably not where your beer is coming from. Drew Schmidt was pretty open about that. "We donít brew there often," he told me. Once a month? "Maybe once a month."

Capital Area

Iíd sampled a triple heíd made that had been second fermented with hefeweizen yeast. It was bright and bubbly, explosively tinged with spicy cinnamon and birch notes, sweet and lively, but good Lord, where does an idea like that come from?

Capital Area

Letís see, have I picked too many hoppy beers already? No? Great, make it the IPA! Goose shoveled in the citric hops on this one, and itís clean and piney, dry-hopped with Chinooks. Get a big glass of this and pretend youíre in Oregon, drinking the hop-juice they call beer out there.

Mendocino BC (Saratoga)

Capital Area

Isnít Mendocino a California name? Yes, it is, and thereby hangs a tale, a twisted, involved tale that explains how this artifact of brewing hubris washed up in Saratoga Springs. Thereís a hero, foreign intrigue, rags to riches glory, and riches to rags despair. Oh, yeah, itís all here. Buckle up, letís go for a ride.

Original Saratoga Springs Pub and Brewery

Capital Area

It gives Mike Breunig a chance to stretch his wings a bit. I got some of his Golden Bock: what a big juicy gumball of a beer, with plenty of the overnotes of fruit you get from massive malty lagers, and this is a massive mouthful of beer. "Come back and try the Oktoberfest," Mike urged me. After tasting the bock, Iím more than willing, just call me when itís tapped.

Capital Area

This is a wide-open brewhouse with clearance through three stories, and Peter Martin uses all the height. Itís a gravity brewhouse; the malt gets lifted once, to the second floor, where it drops into the mill and then drops into the mash tun, then the wort drops into the kettle. Itís all chains, pulleys, hooks, and hoists, much of it muscle-powered, and lots of manual cleaning. Peter may look slight, but donít offer to arm-wrestle him.

Adirondacks

I Pick An IPA. Johnís IPA is a light gold, almost Coors Light color. Donít let that fool you. Under that tenacious white head is a whole lotta hops, enough to drop your jaw and open your eyes. This beer will whoosh right through your mouth, grab your uvula, and hang there, shaking its fist and screaming "I am HOPPY!!!" Quite an enjoyable rush, really, like eating jalapeŮos.
Bootleggers Brewpub

Adirondacks

I was fortunate enough to catch the seasonís opening night at the Naked Turtle Holding Company, the talk of the town that day in Plattsburgh. Itís not all about micros, but even beer geeks have to cut loose occasionally. The Naked Turtle is "naked" (open) from late April to October, itís a ton of fun, the French-Canadian waitresses are gorgeous, and you can get Guinness and Saranac. Relax!

Adirondacks

You could easily be forgiven for thinking youíd walked into a general store. Youíre presented with books, racks of jerky, postcards, fish identifying guides, a rainbow of t-shirts and hats, candy, and taps of beer and soda. Things hang from the ceiling, theyíre displayed in the window, clever shelving holds stuff everywhere, and thereís cheese, sausages, horseradish, and pickles in the walk-in cooler behind the taps.

Adirondacks

This is one of my favorite bars or brewpubs anywhere for hanging out, just because of the space. I love old, worn bars that look authentic (even if they arenít) and are in context with their surroundings, not ones that look like they were blown out of a spray can. Davidson Brothers has that feel, that vibe, and I groove on it.

Adirondacks

Rob smokes the malt himself, on a backyard smoker, over fruitwoods, like cherry and apple, and aromatic woods like pecan and maple. "I find it almost impossible to oversmoke malt when youíre using fruitwood," he explained, and itís true. The Smoked Porter smells great, like that smell of a good woodstove in the fall, but the flavor is mild and deliciously understated.

Adirondacks

Chris Ericson is my kind of guy. When I came by Lake Placid Pub & Brewery on my scheduled visit for this book, Chris greeted me, took my wife by the arm, led us to a table overlooking Mirror Lake, and got us beer samplers right away. Interviewing could wait; this man wanted his beer to be the first thing I heard.

Adirondacks

Dreams do come true. Ericson needed more capacity for Ubu Ale and 46íer IPA, and he got more than he dreamed. Heís sitting right across the lake from the mighty and established Magic Hat brewery in Burlington, and now itís going to be Ubu vs. Fat Angel, 46íer vs. #9, in a beer battle for the Adirondacks. A tough fight for the underdog, but Ericson seems to have a lot of luck on his side.

Red Lion Brewing

Adirondacks

Velvet Elvis Stout is what I automatically ordered the first time I returned to Red Lion, before I had even tried the new seasonal. Well, after all, lifeís uncertain, you never know what beer might be your last, and Iíd hate to think I might miss having one more glass of this malty milkshake of a beer, roasty and bitter with a whiff of graham cracker.
Brotherhood Winery
FDR Territory
Yes, youíre still in the right book. Brotherhood Winery is the business, and itís a real winery: Americaís oldest winery, in fact, established in 1839. But now theyíve got Nat Collins brewing for them, and I just hope for prideís sake that their wine is up to the challenge, or theyíre going to wind up changing their name to Brotherhood Brewery.

Gentleman Jim's

FDR Territory

Jim really delivers great steaks, and has no qualms about cooking them as rare as you want them. Brewer John Calen pronounced the ribs "awesome" as he drooled all over the table. Appetizers are similarly classic, and just as well-prepared: wings, beer-battered onion rings (these are more than classic, theyíre divine), and small orders of the ribs.

FDR Territory

I remember the first time I had Darrenís beer. It was a summer afternoon, and the kids and I escaped the punishing heat by driving over to New Paltz to see Star Wars Episode I. I tempted them with promises of root beer and tooled down the hill to the brewpub. Drinks in hand, the kids looked out at the sun-scorched landscape with dread while I tore into my hefeweizen. Totally refreshing, that beer, sublime quaffability. I decided right then that we would be back for dinner after the movie.

FDR Territory

Itís true, so John Eccles says it. He came out with another one when we were talking about his love for lager brewing, and why he moved Hyde Parkís beers to the cold side of the beer family. "Ales," he snorted. "I could train a chimp to make ales. You have to know what youíre doing to make lagers."

FDR Territory

Neill also told me about a habaŮero pilsner he made once, spiced with the little yellow-orange death peppers. "It didnít smell spicy," he recalled, "it didnít even taste spicy, but when you swallowed, the back of your throat came off. And," he added, "it made people drool. It didnít sell too well, but there was a dental hygienist, a regular, who really liked it." Must have been the drool.

Glacier Country

I havenít told you about the marvelous yeast (picture Don Feinberg pounding on the open fermentation tank during our interview, shouting "People donít understand that this is an animal, an animal that works for us!") or the breweryís fantastic festivals (giant puppets, Belgian flag throwers, live falconry exhibits, and lots and lots of frites and waffles). Thereís so much to see, and taste, and hear, and experience.

Glacier Country

The brewery flagship is Old Slugger, the brand you see most often in bars. (The ballplayer on the Old Slugger labels and taps is the famous Golden Age player Nap Lajoie.) The pale ale pours a reddish-gold color; "Thatís the color beer should be," Stan remarked as he tapped a glass for me.

Glacier Country

Consider that those beers really do taste different, and then consider that Jason Fox is working with only one yeast, an ale-lager hybrid of British origin. "I use a lot of different fermentation regimens," he said earnestly, referring to the use of different fermentation temperatures and temperature cycles. He also has a malt room bulging with different specialty malts and a rainbow of hops.

Glacier Country

If youíre a regular Newcastle drinker, donít try the Buchan Nut Brown: itís a lot more flavorful, full of malty, nutty goodness, and youíll never be happy with Newkie again. If youíre a hophead, donít look for an IPA: the pale ale is plenty hoppy, stuffed with piney Cascade aroma. "We did an IPA once," Peter told me. "It would have burned your mouth."

Glacier Country

I canít tell you how many people I know who have told me, unprompted, that the Rongovian Embassy to the U.S.A. in Trumansburg is "the best #*%&! bar in the world!!!" I have to admit, itís one hell of a bar. Good beer, but thatís just the start. Great Mexican food, fantastic live music, wild decor and an authoritatively solid bar...and you still donít get it. Itís the vibe, a vibe that has lasted for thirty years. Go get some.

Glacier Country

When I was a boy, we used to vacation in New Yorkís southern tier. When we visited Corning, we toured the Corning glassworks and never, ever went into any of the Market Street bars.
Okay, I was twelve. But Market Street has an amazing collection of bars for such a small town. Címon, Dad, thatís educational!

Glacier Country

Thatís probably why his Sled Dog Doublebock went from being a seasonal to a year-round beer, and then became the best seller, possibly a first for an American brewery. "They like it," Andrew says of the wine people who drift over to the brewery and try the doublebock. "It can and does age well, a lot of people like the sweeter beers, and some of them like it because itís 8.5% ABV." Party on, wine-folk!

Lakeshore

A sudden gleam came in his eye and he rushed off without a word, leaving me with my glass of porter, mystified. Suddenly, the door behind the bar opened, and Joe slammed three feet of frozen muskie down on the bar. "I got that out of the lake," he said triumphantly. "Usually I catch and release, but he bit me on the ankle when I got him in the boat. I wasnít going to let that go by!" Now thatís fishing! (Want to see the muskie?)

Lakeshore

Tom brought us a fresh, steaming plate of wings. They were the reddish-orange color that Nature uses to warn animals of dangerous toxins: perfect. They were enveloped in a stinging cloud of vinegar and capsaicin that abraded nasal tissue: divine. They had a crispy layer of greasy skin and razor-textured hot sauce on top of soft, tender tidbits of chicken: outstanding. Three of them, and I was gasping. Uncle Don thought they were "pretty good. Could be hotter."

Lakeshore

No, The Distillery is not one of the tiny handful of new distillery pubs that have started to spring up around the country, unfortunately. The name actually predates the 1997 addition of the Micropub International brewhouse in the front of the bar. Get used to this kind of confusion; there are lots of bars out there with "brewery" or "brewing company" in their names that have never reeked of sweet mashing malt.

Lakeshore

"I got the brochure in the mail, and it looked interesting," Jim said. "So I gave it to Lou and told him to take it home and take a look at it. Then after he leaves, Iím thinking, heís already managing the place, cooking, heís not gonna want to do this, too! He came back the next day and tells me, hey, this looks good. So we did it." And it was just as simple as that.

Lakeshore

Vegetarians will find a particularly good selection. For appetizer, try the Sesame Tofu with Javanese vegetables, then fill up with the Bodega del Sol, a poí boy roll stuffed with grilled vegetables and cheese, or the Big Burrito, jammed full of vegetables, pesto, and red beans. Donít fret, carnivores: there are also plenty of burgers, chicken, and a 14 ounce New York strip steak.

Lakeshore

Welcome to Syracuse, home to the Incredible Walkable Triumvirate of Bars. Start at the Blue Tusk, across the street from Empire. The Blue Tusk is simply awesome, easily one of the top ten beer bars in the state: 69 excellent taps, cask ale, great food, plenty of space, incredibly beer-savvy bartenders (they almost knew as much as I do!), a Belgian beer bar and cafe quietly tucked away in one end of the area, and thoroughly civilized and clean bathrooms.

Lakeshore

Flying Bisonís beers are not what youíd expect. Come into a city cold these days and find out that thereís a new packaging microbrewery in town, and you could bet that itís either going to be making timid stuff to appeal to a broad market or "manly" hoppy beers because some hophead finally got enough money together to make "the kind of beer people should like." Surprise! Flying Bisonís flagship Aviator Red is a malty Irish red ale that throws geeks for a loop.

Lakeshore

Tim Butler loves the yeast, as most experienced Ringwood brewers do, citing how robust and easy to work with it is. But a lot of beer geeks have preconceived notions about it. "You canít change their minds," he says, shaking his head. "Theyíll come in here, try the beers, theyíll love the beers, then they find out itís Ringwood and they just walk right out." Their loss, Iíd say.

Lakeshore

Sometimes I pick the big beers, and sometimes itís the unusual beers, but this time itís the pint-pounding Seneca Saaz. Paul takes what is usually the "Bud substitute" at brewpubs and shakes it up with that sharp buzz of Saaz hops, crisp and floral with a bitter finish that sets up the tongue for another. Inspired brewing.

Lakeshore

You could almost cry when you think about it. I understand some people did. The old Gregory Street location of Rohrbachís closed down in the fall of 2001. No more hot nights in the basement of the old German House, cooled by plentiful drafts of Gregory Street Lager and Highland Amber, no more traipsing down to MacGregorís for one last half-pint of stout, no more Rohrbachís.

Lakeshore

Sit at the bar and receive the smooth attentions of Mark Ralston, the brewpubís head bartender and Stephen Flynnís right hand man. Try some of the biscuity 1812, or dive headfirst into a Sackets Harbor IPA, a fruitbowl of great hop flavor with a long hop finish. If youíre having seafood, you should have a glass of St. Stephenís Stout, an eponymous brew thatís smoky, roasty, and a bit on the rich side.

Lakeshore

Donít you love the name? "Syracuse Suds Factory." Brings to mind a picture of beer somehow being welded, riveted, and pressed into being. But this is no industrial space. This spacious brewpub is smooth and comfortable, a real bar of a brewpub, more a place for the second shift to come and spend their wages rather than earn them.

Long Island

"The homebrew guys think this is boring," Joe Schineller laughed as he showed me the Biering Fooding 10 hectoliter system. At first glance, itís hard to see why: this is a full whistles and bells brewhouse, a dream system for any pro brewer. But itís all automated, so all the brewer has to do is watch readouts, push buttons, and turn an occasional valve. Thereís no stirring the mash, raking the bed, adding the hops, all that hands-on stuff thatís so romantic -- to watch.

Long Island

"The owner wanted to raise trout on the spent grain from the brewery. We filled up the spent grain hoppers with water and dumped the trout right in. But it was summer on Long Island, and trout need cold water. So he goes out and buys an ice machine, and we spent half our time throwing ice on the trout! It was a disaster, but I could see that the demand was there, even for their beer. Pete and I figured, we could do this."

Long Island

When you walk in the front door at the Brickhouse Brewery, take a good look at the gleaming 10 barrel Bohemian Brewing system in the front window. Like any Bohemian system, itís gorgeous: beautiful, functional curves and shiny copper-cladding. But take a particular look at this one, because I once helped polish that baby. Just wanted you to know the lengths Iíll go to for the story!

Long Island

"John Harvardís Brew House is a chain! "
Youíll sometimes hear that from the more exercised of the geekerie, with the strong implication that if itís a chain, it canít be good. Balderdash. I am not a big fan of chain restaurants; Iím convinced they are a sign that the Apocalypse is near. But John Harvardís has what so many chains do not: individual variety.

Long Island

New England Brewing was where I met Southampton's brewer, Phil Markowski, in 1992, on an impromptu tour that heís been gracious enough to claim he recalls. Once he found out how enthusiastic we were about beer, he took his time explaining things, broke out beers and snacks, and entertained us with brewing stories. It was the high point of a great beer exploration trip.

NYC

I was lucky enough to find Brooklyn Lager in 1988, shortly after it came out, and drank it often. I was terribly impressed by its hoppy nose, solidly medium body and malt heft, and bitter, clean finish -- and I still am. This is one of the best beers out there for serious session drinking, when youíve got old friends together or making new ones and you want to talk forever. Brooklyn Lagerís so good you wonít want to switch, but not so over-the-top that it distracts you.

NYC

I wasnít there to hit a bucket of balls. I was there to watch other people do that while sipping a relaxing glass of Porter of Authority in the Chelsea Brewing Company lounge, a less strenuous but equally rewarding activity. Considering the heft of the porter Chris Sheehan brews, Iím not so sure it is less strenuous; this is some big beer.

NYC

Thereís a look to older New York City bars, the long-established places in the older buildings. Theyíve got a lived-in look, an easy-on-bleary-eyes atmosphere of dark wood and low lighting, and a lot of times you can see the brick walls of the building. The long bar is a little cluttered, but the surface is shiny and clean from many rounds of club soda and bar towel.

NYC

Kelly Taylor has a surprisingly European approach to brewing for a west coaster. "Itís all about balance," he said. "You have to balance the malt and the hops, not overwhelm with one or the other." Thatís why hopheads might not be happy with anything but Indiana Pale Ale, but then, not everyoneís a hophead, which is near the core of his philosophy.

NYC

Whatís with all that Midwest imagery, anyway? Who would have thought Midwestern theming would have worked in a Manhattan brewpub? Oh, maybe the people who thought a revival of Oklahoma would knock Broadway dead. Like Oklahoma, Heartland is a romanticized, Eastern view of the Midwest: reassuring, quiet, honest, just what your average Manhattan office-worker is looking for after a stressful day of dealing with a couple dozen screaming liars.

Typhoon Brewery

NYC

Typhoon is so much more restaurant than brewpub. Restaurant people outside the brewpub part of the industry have been telling us that to be successful, a brewpub must be a restaurant first and a brewery second. I doubt that, myself. Heartland has put their beer just slightly ahead of the restaurant and is doing very well.

NYC

Sal got beer writer Michael Jacksonís first book. "I opened that and saw all those beers, then I looked at the crap on the shelves in the stores. If I wanted to drink the beers in the book, Iíd have to make them. So I learned to homebrew. I liked the brewing, and I liked sharing beers and knowledge. Itís all interesting, the history, the different glassware for different beers, even the math in the brewing."