Short Snorts
Even quicker and shorter than The Latest, this is where I'll be doing quick write-ups of one-stops, new beers I've had, and other good stuff like that.
5/29/07: Big stuff happening in Sackets Harbor.
3/10/07: We got a puppy. Not about beer, I know, but it is my life, and it's important, and I don't want to send everyone to the blog (where there are already puppy pix, and the whole story). So here are the latest pix of Penderyn, our new Pembroke Welsh Corgi pup.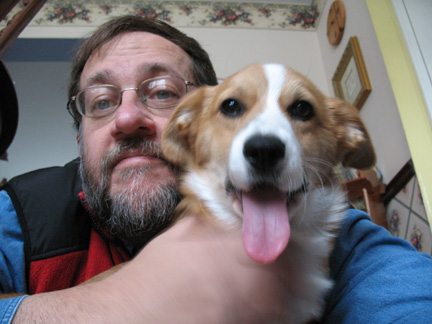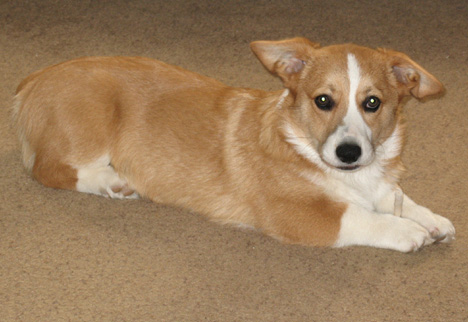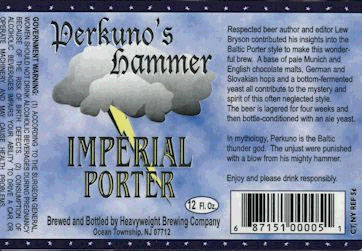 The Hammer Strikes For Victory!
2/16/07: I am very happy to announce that Perkuno's Hammer, the delicious Baltic porter that I had a small part in developing with Tom Baker of Heavyweight Brewing (mind you, the name was all mine!), will soon be brewed under license by Victory Brewing. That's been a process long under discussion, but I was sworn to secrecy. Besides, even when I plied Tom Baker with much strong drink in Düsseldorf last month, he wouldn't divulge a thing. Damn all tight-lipped brewers.
But it's all good now. Papers are signed, and Tom and I have been invited to the first brew...whenever that is. Victory still needs to get the new label approved, and then there's the inevitable scaling and tweaking process, and figuring out how to get the German brewhouse not to totally freak out when the beans go in...but that's all manageable. With luck, Perkuno will strike in late spring. No word on whether it will be 12 oz., 750, or draft, or a combination.
Bill Covaleski had this to say about the project: "Ron [Barchet] and I have always been big fans of Perkuno's Hammer, and Tom's beers in general. This was one beer that we simply could not let vanish, and when we reached out to Tom about keeping this great beer alive, he was very enthusiastic to collaborate to that end. This is another example how Victory lives to delight our own inner beer geek, and the beer community as well."
It's a rough world, and I'm so tired of marketing spin. It's nice to know that when a brewery like Victory says something like "This is another example of how Victory lives to delight our own inner beer geek," they're just telling the truth. It's even better when it gets The Hammer back on the market and back in my fridge. I'm so excited I'm about vibrating.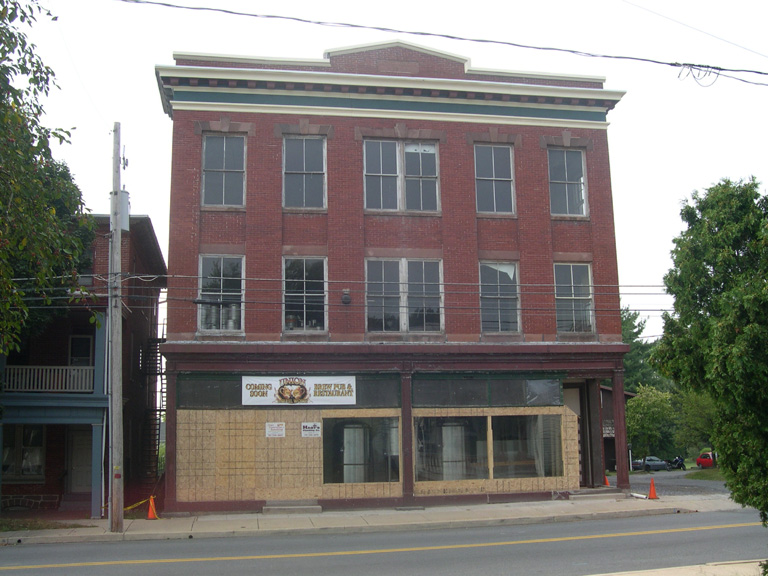 8/30: Tom Rupp Sighting...maybe: Tom Rupp was one of the original brewers at Stoudt's (I say "one of" because of the variety of stories you'll hear about that from the parties involved). He parted ways with the Stoudts, and was the first brewer at Neversink. He parted ways with them, and dropped off the map...except you kept hearing stories that Tom had bought a brewhouse and was looking for a place to put it...someplace near Adamstown -- where Stoudt's is. Over the past seven or eight years, Tom became a kind of Flying Pennsylvania Dutchman figure, as we pictured him driving around northern Lancaster and southern Berks counties with a brewhouse in the back of his truck, always looking for a place to brew but cursed never to -- well, you get the picture.
And then today I got this picture from Bryan Kolesar, who does the BrewLounge blogsite (and does a nice job covering southeast PA with it). He said his friend Dennis Wilczek took it around August 20, and is anxiously awaiting the "advertised" November opening. And Bryan said he "was wondering if Tom Rupp is the anticipated brewer at the new Union Barrel Works?" Well, let's see. Brewpub, within ten miles of Adamstown, somewhat secretive. Sure sounds like Tom. And I've got some can't-talk-about-it-yet info that makes this almost a sure thing. Things could get interesting. Tom's a good brewer -- I keep an empty bottle of his Neversink Maibock in my very small beer display area -- though he's not any kind of a hophead (Hurray!), and he's driven. Will he give Carol Stoudt a run for her money? Probably not, but for sure it's going to interesting. Hey, Tom: call me!
8/18: "Best Brewpub? Says WHO!" In which I make an ass of myself. Cathy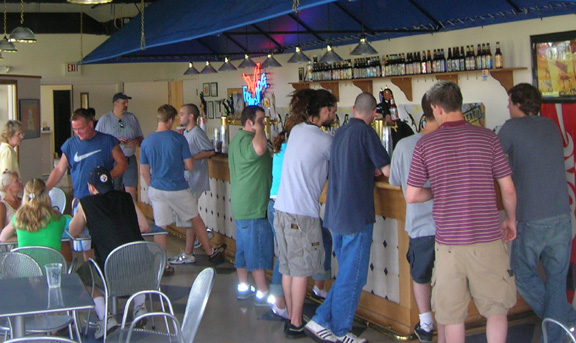 and I were on our way back from dropping off the kids with my brother-in-law Carl and his wife Joan. We'd met in Frederick, MD, and had yet another excellent lunch at Brewer's Alley. (Although it was kinda weird when my son ordered a root beer and got a cool, frosty mug of ... Nut Brown Ale. I mean, I'm in favor of an 18 LDA and all, but 14's a bit young.) After lunch, Carl and I left the wives and kids to crash the tasting room at Frederick Brewing--oops, sorry, I mean Blue Ridge--no, wait, it's Wild Flying Goose Dog. That's the picture: Flying Dog bought the whole outfit, and they've decided to put their local brand bet on Wild Goose. Smart, IMO. Anyway, we tasted and enjoyed, especially the Goose Porter and the Terrapin All American Pilsner; the Flying Dog Snake Dog IPA was one bitter head-knocker too. Carl's the guy in the hat in the back, by the way. After we left Flying Goosedog, we meandered over to Barley & Hops. Well, yum. We enjoyed the Stout and the Schwarzbier so much we had two. I mean, we had to. Heh. Anyway, we went back to our families, had big cups of coffee, and packed up. Cathy and I said good-bye to the kids and headed up the road.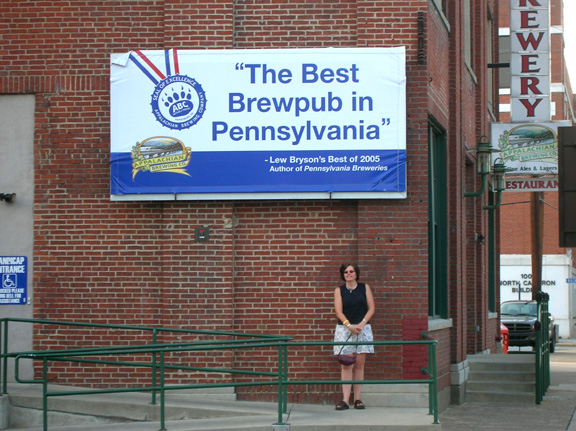 "Where do you want to get dinner?" I asked her. After kicking around a few options, we realized she'd never been to Appalachian, so that's where we headed. We parked on Cameron Street and walked up to the brewery, and saw this sign on the side of the building, the sign you see in the picture to the left. At a distance I saw the top part: "The Best Brewpub in Pennsylvania". 'Oh, yeah?' I thought to myself. 'Says who!' And as we got closer and I could read the bottom lines, all I could do was laugh. Sure enough, just some jerk with a website...Cathy was real proud though, and I have to admit, it gave me an ego-boost as well as a chuckle. I'm glad Appalachian thought enough of it to put that big damned sign up! And there was no way I was going to let it go by without taking a picture and putting it up here. There are reasons why I just had to.
Well, we went in, had a real nice dinner and just one more beer, and headed home. It was a good day, even though we did miss the kids the rest of the week.
8/10: The mystery is revealed. No one can resist me...especially when I bring power tools and help out with the re-hab. Learn everything there is to learn about the mystery brewery here.
7/10: Another tiny town, another tiny brewery: Another Pennsylvania brewery is under construction, I learned late last night. I got an e-mail with pictures of the current progress of this small brewery. In case you hadn't noticed, I'm not giving out details at all at this time, by request of the principal. "I really don't want the attention yet," the owner said. "I've been through the whole "when are you going to open?" game before, and would rather be further along before that starts. There's still way too much to accomplish before opening, so I'm not even giving out a target date yet." As you can see just below, there is a lot of work to do. All I will say for now is that this planned small brewery is in a small PA town that is virgin craft beer territory, and there will be a taproom with growler and bottle sales. Don't expect anything more till Fall... "Or later," said the mystery principal.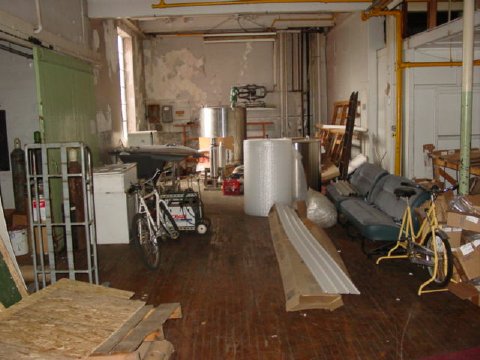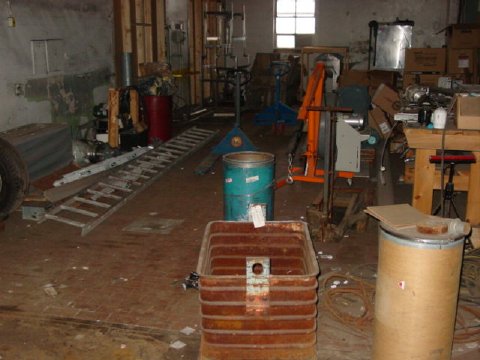 Things actually look a lot better now, a lot of the junk's out.
6/30: "Conestoga Brewing" -- tiny town, tiny brewery: Most people have never even heard of Conestoga, PA. But that's where Matthew Keasey and his two partners -- brother Greg Keasey and childhood friend Mike Brenneman) are planning to start a brewery. "We're looking to start up in an old tobacco barn on my property," Keasey told me yesterday. He's currently working at Lancaster Laboratories and also does QC at Appalachian Brewing one night a week, "you know, checking yeast health, watching for pediococcus, stuff like that," he said.
"When I first started homebrewing, I got in touch with Mike McDonald down at Whitemarsh," Matthew said. They all talked about opening a brewpub in Lancaster, but the partners at Whitemarsh didn't agree on how to do it, and that fell through. That's when he started talking to Artie Tafoya at Appalachian; Appalachian was gung-ho on opening a brewpub in Lancaster at the time...but that eventually fell through also (although it's not off the table). Keasey had got his hands in it now, though, and decided to do it himself...only not a brewpub. He'd grown up across the Susquehanna in York, but he bought a property in Conestoga, in southern Lancaster County, last September, to live and brew. "Our house is an old springhouse, built in 1794," he said. "There's a spring in the basement, it's great brewing water. The house didn't have water or electricity until 1970!"
But it's the barn that's the key to the idea. He's looking for a 10-15 bbl. brewhouse to put in the barn to make draft beer "and maybe 22 oz. bottles, or champagne bottles," he said, and having 12 oz. bottles contracted at The Lion. That was supposed to be done at Yards, but the deal didn't work out. "The batches at The Lion are bigger volume than at Yards, but we should be able to store at the wholesalers," he said. "I'm keeping my eyes open for a smaller brewery, but nobody's got much excess capacity. (A good thing to hear, for the overall industry!) If that doesn't happen, we'll stay with the Lion." He's hoping to have that part up and running by late September, either one year-round brand or one-at-a-time seasonals.
Meanwhile, the brewery in the barn will be turning out "all kinds of styles," Matthew said, "English, Belgian, American." What, no lagers? They'll only be open to the public on Saturdays during tour hours, which will be the only time to buy beer at the brewery. "Our residence is on the property, too," he said, and noted that he needed some privacy. Indeed. The barn, as a tobacco barn, is open, so air's flowing through it. "We've got renovation to do on that," Matthew said, "pour concrete and run drains, get DEP approval. We got approved to use the storm drain for water waste; the chemical waste I'll be storing and having it taken away."
And the name? Why the quotes around it? "We're still working on narrowing down the list!" Matthew said with a laugh. "We've all got our favorites, but we don't want something boring." Good, I'm tired of "Placename Brewing Company!" They don't want to be too tied to the area, either, because they're planning for success. "We'd like to do like Legacy," he said, "start small and then move to a larger location." And that's kind of good about the biz right now, too: people aspiring to be like Legacy, which just two years ago was barely starting out. Good beer, good business, good luck...and you get success. Keep your eye on that ball, Matthew.

5/26: Heavyweight is really closing. Really, really: Sorry folks, I dropped the ball on this one. Tom Baker's Heavyweight Brewing really is closing, and I knew about it three weeks ago...and didn't tell you. Not exactly cat-like journalistic reflexes, eh? Here's what happened. I was at a beer and cheese tasting at DiBruno's on May 5, featuring Heavyweight and Yards beers presented by Tom and the lovely and talented Dean Browne of Yards. I saw Tom and sidled up to him, figuring to have some fun with him over his habit of starting rumors about how he was quitting and shutting down; I'd just heard two rumors that week (that he was opening a brewpub in New Hampshire, or that he had a contract to set up a string of brewpubs in Italy. Right). "Hey, Tom," I said, "is it true what I heard, that you're opening a brewpub in the Kerguelen Islands?" He laughed, said no, no, not true, and then he paused and looked me in the eye kinda sideways and said, "I am shutting it down. Really. We're only doing three more batches." I was a bit stunned, and the first thing I blurted out was "Why the hell are you here, then?" And he grinned that Tom Baker grin, and said, "Because it sounded like fun." Which, at bottom, is why he was in it in the first place.
A salute to Tom Baker, and your cheerful, vivacious companion Peggy Zwerver: for seven years you reminded us what microbrewing -- true microbrewing -- is about. It's about someone with a vision and some stainless, making beers like no one else, beers that you make because you think they might be really good, or very interesting, or something completely different. You got people involved in the brewing -- like me -- you got people excited about small batch beers.
You can get the whole Heavyweight closing story from either Don "Joe Sixpack" Russell, or my favorite guy this weekend (cuz he got me Phillies tickets), Jack Curtin.
5/16: Tröegs picks a new dance partner: I learned today that Tröegs, in the wake of the Kunda/Friedland deal (finally signed and apparently including Yards, by the way, as reported so ably here by the ever-aging (aren't we all?) Jack Curtin), has bolted the Kunda stable to sign with Penn Distributing, where Victory settled after having left Friedland under somewhat acrimonious circumstances, giving their reasons as...Friedland was going to be sold, and they wanted to go somewhere else that was their choice, something almost everyone not in the actual wholesaling business -- including me -- pooh-poohed at the time. I've since learned that Eddie Friedland's plans to sell were something of an open secret. Oh, well. In any case, Tröegs will be with Penn for Philadelphia County. I'm not sure if this is a great idea -- there's a bit of overlap with Victory's line and image -- but I think it's likely that they'll be ably served by Penn's organization.
5/9: The Grey Lodge named one of America's best bars by Esquire: Back in early March I got an e-mail from a guy I got good and hammered with at the Kentucky Bourbon Festival, Esquire drinks correspondent Dave Wondrich. He'd been assigned a 'best bars' piece, and wanted some Philly suggestions. He already had some cocktail places on the list (one of which, Southwark, I'll have to check out: if Dave says they do a "perfect rye old-fashioned," it's excellent), but he wanted my beer angle. I sent him the usual suspects, but told him that he had to get to the Grey Lodge, no matter how far out everyone told him it was. Three days later I got this response: "I made the pilgrimage out to the Grey Lodge. If Comic Book Guy took over Moe's, that's what you'd get. Awesome bar." I replied, mentioning the whiskey selection upstairs. A beautiful response: "I didn't even know the Lodge had an upstairs." Yeah, well, downstairs can do that to ya. So anyway, today I see this, about half-way down the page. Ah, it's doubly sweet to see this kind of acknowledgment for a bar you love, and to know you helped it happen. The Grey Lodge certainly earned and deserved the recognition, too!
4/17: On this blessedly late Tax Day (I'm just finishing mine up), someone gets it: National Review contributing editor Deroy Murdock wrote the following in his Tax Day column on how the federal tax cuts are increasing federal tax revenue: "Congress also should terminate the luxury tax on beer. That's right, beer. In 1990, as part of his notorious "Read my lips" tax hike, President G.H.W. Bush doubled the federal excise tax on beer from $9- to $18-per- barrel. While the luxury taxes on furs, yachts, and private airplanes were repealed, the Tax Code still treats beer like champagne. According to the Beer Institute, 44 percent of beer's retail price consists of taxes. As Steve Stanek wrote in the September 2005 Budget & Tax News, "The beer industry estimates the excise tax increase has resulted in the loss of nearly 60,000 jobs in brewing, distributing, retailing, and related industries." Congress should chug a few, then halve this levy back to $9. Better yet, stop taxing beer." Good luck getting this past the screaming weenies -- "Kids will be rioting in the streets!!" -- but it's just a good idea. Because excise taxes suck.
2/8: Schlenkerla Lager arrives in the U.S. TODAY: I just got off the phone with B.United founder and principal Matthias Neidhart, who had some very good news for me. "The Schlenkerla Lager arrives today," he said, and will be in their warehouse shortly. From there it will go out to wholesalers. He said that "there is a lot of excitement about it already," and they are getting requests for it, including one from NYC's Gramercy Tavern. Then he really surprised me with the news that Matthias Trum has agreed to supply it in draft, something they don't even have in Germany, in Bamberg. "Well," Matthias laughed, "You know how we are. When we have a chance to ask a brewer for something, we ask!" Watch for that in the Summer. As I said elsewhere, this beer is just fantastic: a perfectly done helles with a beautifully understated smack of smoke that comes only from running it through the same process as their smoked beers. Delicate and delicious. Can't wait to get some! We also spent some time laughing about the story of my last night in Germany on the recent Bavarian press junket; Matthias is a subscriber to The Occasional Pint, and evidently it got passed around the office. If you want to read that story...you'll have to subscribe (it's free!).
1/8: Cold Beer Too Dangerous to Sell in Missouri? AP writer Chris Blank reports that Missouri state senator Bill Alter has proposed a law that would suspend a store's liquor license if the store sold beer colder than 60°F. The bill -- which comes from an idea Alter got from 10 year old kid -- is aimed at preventing drinking and driving "by making it less tempting to pop open a beer after leaving the store." Alter, like most anti-alcohol legislators, knows just what's on your mind, and it's not good: "The only reason why beer would need to be cold," said the notably brainy senator, "is so that it can be consumed right away." Hello, Einstein! Does this mean we can expect a companion law to force 7-11 to only sell those big Red-Hot Bean & Cheese Burritos cold? Because I know when I drive down the road while I'm munching on a steamy burrito, my mind ain't completely on my driving, y'know? This law, like many crap anti-drinking laws, punishes everyone, makes everyone guilty. The only reason to drink is to get drunk -- anti-alcohol folks know this, know it like religion -- so the only reason to get cold beer is to drink it right away, probably popping one open before you even leave the parking lot. Even the guy who lives a mile away, and wants to pick up a cold sixer on the way home from church to drink with lunch and during the game, well, he'll just have to wait. You and I both know that there's no way this is going to pass. But good Lord...to be stupid enough to even suggest it?

2005 Short Snorts Archive