July, 2004
Stumblin' Royally
The Royal Stumble at Nodding Head is one of those rare beer events that manages to be truly different. Some fests try to pull this off by their venues, some by virtue of seminars or panel discussions, but the Stumble... Have you ever been to a beer fest and had a brewer chasing you with a pitcher of his beer, begging you to let him fill your glass? You have? Really? Okay, was he dressed in a kimono with kabuki makeup, toting a kendo sword? No? I told you the Stumble was truly different.
The Royal Stumble was an idea conjured up by Nodding Head bartender and personality Brendan Hartranft (not Brandon, the brewer at Nodding Head, Brendan, whom everyone knows as Spanky). Brendan has plenty of ideas, but this one was actually marginally feasible: have a beer fest that's a contest to see which brewer can kick their 15.5 gallon keg of beer fastest, presumably because it was the most popular. Fun enough, and an idea that would lead to the brewer-chasing-you-with-a-pitcher scenario, but then the Spanky Factor reared its head: and have it be like a professional wrestling event, with the brewers in costume!
Dios mio. We've had WWF Stumbles, the very popular mad Mexican stumble (with obligatory masks), and now this year's Sumo Stumble. Oh no, we all thought, Tom "Heavyweight" Baker in a Sumo diaper? He'll have to wear suspenders!
I'm happy to report that most of the brewers once again rose to the occasion. Except Brian O'Reilly, of Sly Fox, who just kind of dressed, and Chris LaPierre of Iron Hill West Chester, who showed up in a tuxedo and huaraches. Some guys never get the memo... Bud the brewer (better-known to his mom as John Parsons) and Chris Wilson from Weyerbacher showed up in an interesting ensemble: Bud wore a black kimono with a cedarwood katana shoved through the sash, while Chris wore a somewhat menacing Japanese Army jungle camo uniform with a swagger stick stuck under his arm. I noted how he kept bouncing up and down on his toes, and cautiously walked away, whistling the Colonel Bogey March.
Nodding Head brewer Gordon Grubb made the stunning mistake of telling the Nodding Head waitresses that if they made him a costume, he'd wear it: he wound up in an orange and green number that looked like a walking harvest festival. That "SG" on his chest, I asked him: is that "Sumo Gordon" or "Super Grog?" He just laughed and shrugged.
Someone from Bethlehem Brew Works (sorry, I didn't get the name!) wore an excellent poofed-out sumo body-suit (and a lot of sweat; I offered to pour ice down his back) complete with nipples and man-boob lines. Tom Baker didn't do the diaper route (no one did, thank God) but had an obligatory headscarf, as did the brewer/new owner of the General Lafayette, Chris Leonard, as he pushed a delicious madness he called Red Thunder (Tom paradoxically had the lowest ABV beer in the show, Groin Pull Black Beer).
But the boys (and girl) from TrŲegs stole the show. Brewer Chris Brugger and man-about-TrŲegs Ed Yashinsky brought their own makeup artiste along, the delightful and talented Michelle Graser. Chris was kabuki'd up like Dr. no, Ed was pulling off a ganguro geisha with his usual wild energy, and Michelle was bowing and being transcendant, all in beautiful costume, right down to Michelle's hairspikes. Hey, the beer -- TrŲegs' new Dreamweaver Hefe-Weizen, a first for them -- was pretty damned good too.
But there were more than a couple good beers at the Stumble. Tim Roberts brought a very smooth and sophisticated IPA from Independence, and The Belt; Tim was last year's winner. I think the woman pushing Victory's latest single hops pils (Hallertau MittelfrŁh, for those keeping score) was Christine Bump, but things were just too raucous for an introduction at the time (turns out she was: thanks to Richard Ruch for the confirmation, and nice job to Christine, who Richard tells me brewed this excellent pils).
Despite my detractor's puling smears, I don't like every beer. Flying Fish's Hop Slam Farmhouse was 5 pounds of Simcoe hops in a 3 pound bag of Farmhouse Ale, and I found it a bit over-done...though I didn't pour it out. And I consider Brian O'Reilly a good friend, and normally I like his Pilsner a lot, but the Keller Pils he had at the Stumble seemed overly sweet (Jack Curtin told me later that Brian had brought "the wrong pils;" (Jack's since explained that he didn't say it was the wrong pils, he said that Brian's "St. Charles (which he hasn't brewed in nearly a year now) is the one which is supposed to be the keller [unfiltered] version but everybody keeps insisting that he not filter the Pikeland, which is what this was. If that makes any sense." No.) I didn't ask, but I think he was right. Jack also said that the beer tasted fine two nights before.).
But people... the beer to have was Yards Philadelphia Pale Ale. You can see my review to the right, but I'll say it again: this stuff is required drinking. Chris Morris was one happy camper as people kept coming by and saying "This beer is [insert preferred profane term of awe here] excellent!" I know I told him that at least twice. As Jack Curtin's already pointed out, I found a little square of bench to sit on between the Yards and Victory tables, and just kept passing my glass to one and then the other. It was a good place to be, especially since it was close to the phenomenal McCuba, making fast-moving Buena Vista Social club kinda music with lots of guitars, percussion, and a trumpet and flute duo.
Enough suspense: Iron Hill won, rather handily, and LaPierre held the empty keg over his head, tux and all. The women he had circulating pitchers through the crowd surely didn't hurt, but as I told Jack, cheating's all part of the Stumble, long as you do it with style.
But the event was a huge damned success to the point of claustrophobia. Spanky was talking about taking it to Blue Horizon (admittedly a sweet place to have this wrasslin'-themed event); owner Curt Decker wanted to get the city to block off the 1500 block of Sansom Street (not a bad idea at all, especially for an event called the Royal Stumble that encourages patrons to drink as fast as...er, wait. Let me rethink this.), and everyone wanted something else done. Although it was an awfully friendly crowd, and all that rubbing up agin' one another was occasionally pleasant -- for me, anyway.
Not long after Chris hoisted his empty keg, Jack and I split for Monk's. Tom Peters had been at the Stumble early on and tipped us that he had a keg of 1998 Victory Old Horizontal (yes, really, and if you're curious about The Story That Will Not Die, about Victory changing from Friedland to Penn for their Philly distribution and Tom Peters subsequently deciding to not buy Victory beer any more....well, I don't see a need to talk about it, since Jack's taken it on so well; besides, I'll admit to not really wanting to know any more about it. I intend to keep going to Monk's, buying beers that Friedland wholesales, and buying Victory. Call me weak; I just happen to think that it's really about the beer), so we thought we'd go sample it. Sorry about the parentheses.
It was a beautiful summer day, until we ran into Mike Horkin on our way down 16th Street. Just kidding, Mike! Mike was with the Philly bar bus tour the Baltimore chapter of the Society for Preservation of Beer from the Wood was running that day, and we'd just missed them at Monk's. Said hi to a couple more people I knew, then we entered Monk's. We dropped anchor at the back bar and ordered our 98 Ho's. The stuff was good, no doubt, but the wineyness of it made me think about how fresh and hoppy the young stuff is. Also made me think about how little I'd had to eat recently, so we got a basket of frites as a little alcohol insurance policy.
We were just finishing up the Ho when Billy White showed up with two friends. Billy's Chris Firey's assistant at Manayunk, a great older guy who Chris says "just loves to make wort," and he'd been pushing the Call IPA at the Stumble, a sharply hopped goodie I see I forgot to mention above. Right after -- I swear it was after -- I had pointed out a big bottle of Cuvee Rene lambic in the bottom of the cooler and said to Jack, "That's our next beer," Billy and his friends said "We want to buy you guys your next beer!"
"Are you sure?" I asked, "because we've already decided on our next beer, and it's not cheap." Go ahead, they told us, so we called it up, and asked the bartender to pour them some as well. It was tasting real good, and then Tom Peters walks in, all bright-eyed and completely sober (not that he's always drunk...he'd told us earlier that he was doing his annual month off from alcohol in July this year rather than August, which of course led to silly jokes all day, some from Tom), and says how the Cuvee Rene's really good and all, but the gueuze he really likes is Drie Fonteinen. I'll bet, I said, it's good stuff.
"So," says Tom, "chilled or cellar temperature?" What a good man! We got it cellar temp, and it was huge, all the stuff you expect from gueuze, sour, funky, dry, and no one thing overpowering the others. No doubt it was kicking the Rene's ass. We shared that one with Billy's crew as well. Then Tom pops back with two bottles of Girardin black label gueuze, saying how he thinks all their other lambics are pretty so-so, but the black label's great. But Tom, we're kind of lambic'd out right now. "Oh, this is for home!" he booms, and shoves them in our hands. Bless his heart.
Almost like clockwork, about the time we needed another beer, in troops Chris LaPierre and his harem of beer-pouring beauties, including one dressed up like the Iron Hill Beer Bird, and Chris buys us a beer! Hail the champion! I screwed up, though, and got a Poperinge Hommelbier that tasted like sweet crap, a nasty sweetness like face powder. Jack's Yards ESA off the handpump was much better.
Just as we decided we'd better run while we could, the BeerAdvocate denizen known as gueuzegeek got herself a bottle of Drie Fonteinen at the bar. Hey, Jack says, we just got one of those. Yeah, I said: is yours chilled or cellar temp? She smiled and said it was chilled. Could we...? Sure! And she poured us samples. Hmmm...Chilled, it tasted a LOT more like the Cuvee Rene. Only one thing to do, I guess. Some point in the future, we'll have to have all four. Yup.
That was enough for us, though. We walked back up 16th, where we saw Tim Roberts standing on the corner of 16th and Sansom in his kimono, holding a gas cylinder. Ah, the Stumble. Hey, if it's at a bigger venue next year, you oughta go!
The Family That Drinks Together
I started research for PA Breweries 3rd edition with a trip to two new breweries: Marzoniís, near Altoona, and Johnstown Brewing. When I started planning the trip, I remembered that two classic old PA amusement parks were nearby: Lakemont and Del Grossoís, both within 20 minutes of Marzoniís. Itís summer vacation time; why not take the kids?
So I did. On July 8, we stuffed the Windstar with too many clothes, bunches of necessary "stuff," and my parents Ė I've still got bars to hit in the evening, and I canít take the kids along! We got off to a late start, thanks to an accident on the PA Turnpike, but things went smoothly from that point on, and we rolled into Duncansville Ė just south of Altoona Ė right about noon.
Marzoniís sits out in the middle of a plaza, right beside the corporate headquarters for the regional Hossís family restaurant chain. No surprise: Marzoniís is a new branch of the Hossís operation. As it was explained to me back in December, the Campbell family, who own Hossís, have expanded that chain about as far as they want to go, with 42 restaurants in Pennsylvania, Virginia, and West Virginia. Further out, and theyíll lose control. Marzoniís is a new concept, the first in their small empire that includes booze.
"They saw the potential for alcohol service," brewer Bill Kroft told me. "Marzoniís is really different from Hossís; the brick oven, the brewery, the barÖeverything, really." For me, for us, Bill represents the big difference. Heís working that 10 bbl. Liquid Assets brewhouse behind the bar, a nice system Hossís got used out of a brewpub in Florida.
Bill came from their own organization. "I worked at Hossís for 12 years," he confirmed. "I started as a dishwasher and worked up to a general manager." While he was doing that, he was also homebrewing, and when the Marzoniís concept came along, "I threw my hat in the ring," Bill said.
Can we be honest? When I found out, before I first visited Marzoniís back in December, 2003, that the brewer was a homebrewer with no commercial brewing experience, I shuddered. Iíve been to some brewpubs where they had let a homebrewer step right in on their system, and they were just disasters; poorly formulated beers, bad sanitation leading to nasty infections, and perhaps most frightening, a small core of dedicated customers with palates of plastic that convince the owners that the beerís not to blame for their lack of success. Marzoniís, I thought then, may be set up to fail, and Hossís will run from the concept.
Was I ever wrong. Bill Kroft made the transition from homebrewer to pro brewer without much trouble at all. The first time I visited was only two weeks after the brewpub had opened, and the beers were already pretty good. Things have been tuned up since then, and there is a wider range of beers here, including a big anniversary ale that Bill let me tank-sample, a beer thatís going to be awesome come November.
I was also impressed with the soft, malty Dortmunder, the smooth and tasty Stone Mason Stout, and Ė surprise! Ė the Locke Mountain Light, a clean and grainy lager with a flip of a bitter finish. If youíre selling a lot of this, I told Bill, youíll have these folks in a position to move up to something gutsier pretty soon; theyíre already past Bud and Yuengling. All in all, I tasted eleven beers, and talked with three regulars, Mark, Jeff, and Michael, good guys who loved the fact that Altoona had a brewpub.
When I was done with the tasting, I had lunch, a portabella pannini that was delicious, crisp but not oily on the outside, gooey with marinara and cheese on the inside. The kids had meatball parmigiana sandwiches: "If you ever get it," Nora advises, "you might want to cut it in half. Because itís huge. And good. With lots of cheese."
We had to run -- not because I had an appointment, but because the kids wanted to get to Lakemont! We went and checked into our motel (an adequate Econo Lodge), changed into bathing suits, and headed for Lakemont.
Dig it: free parking. $6 admission. Okay, so the rides were a couple steps above a parish carnival. But there was Leap the Dips, the world's oldest roller coaster, a side-friction figure-8 coaster of a type that doesn't exist anywhere else any more, and a ride that was surprisingly exciting. The other coaster, a wooden ride, was okay (definitely not up to the Phoenix at Knoebel's), but there was no line: when we came to the end, in the front car, the guy said "You wanna go again?" Well, yeah! We mostly had the place to ourselves, with maybe 40 other people. More came in around 5:00, and mostly went to the water park, which is where we wound up as well: a pool, waterslides, and paddleboats.
We had fun, but at 6:00 the kids were ready to leave. We showered and went to the Knickerbocker Tavern. I'd heard about the Knickerbocker for a while, and had been looking forward to it. It's an old row house-hotel, originally built for the Pennsylvania Railroad to house workers. Now it's a very cool old bar, with a big comfy dining room, a spacious and green courtyard, and the best tap selection in town...not a bad bottle selection, either. Thomas and I had the Western burger, with fried onions, cheddar cheese, barbecue sauce, and an onion ring. The onion rings were exceptionally good, by the way, we'd done an order of them earlier. Only complaint was that they wouldn't do the burger rare. Hmmph.
While the family continued to enjoy themselves, I slipped into the bar. I'd already had a Brooklyn East India Pale Ale that was one of the better examples I'd ever had, now I went for a Sierra Nevada SummerFest; mighty nice. The bar was small but busy, and the neatly turned-out bartender/waitress duo was way ahead of the customers. The only complaint we had at the Knickerbocker was that things got a bit slow when it came time to get the check at the table. I hate that.
Back to the motel, leave Mum with the kids, and my dad and I had a decision to make. Did we want to drive 30 miles over the mountains to Huntingdon to chase down a bar tip Mark had given me: Boxers, in the middle of town. No, we decided, and after finding The Phoenix inexplicably closed on a Thursday night, we drove over to Hollidaysburg to the U.S. Hotel.
What a beauty. The bar at the hotel has a hexagonal mosaic tile floor, tile walls, a massive cherry and mahogany twin-pillar back bar, stained glass windows, glass 'bunch o' grapes' lights, and a "spittoon trough" with working plumbing. Look, folks...the Hotel insists on calling this a spittoon. You'd have to angle yourself something fierce to spit in it. This is a piss trough, plain and simple, and that is a beautiful link to the past. I grabbed a $1.25 pint of Yuengling, and just plain enjoyed the moment. Then we went back to the motel, and slept.
The next day started early. We were showered and dressed by 7:45, so we packed, checked out, and went to R Waffle King ("There's no waffle like R waffle at R Waffle King!") for breakfast. If you're in Altoona, go to R Waffle King for breakfast. This was some serious good eats, and everyone was happy, even my picky father. (17th St. and 8th Ave., 814/946-4463).
Linger though we did, swilling down more coffee, we were still out by 8:45, leaving us two hours to make a one hour drive to Johnstown for my 11:00 appointment at Johnstown Brewing. Some sightseeing was clearly in order, so we chugged out of town towards the Horseshoe Curve, eating some excellent fresh cherries as we went. The road wound up past Altoona's three reservoirs, blue jewels set in steep green valleys, with overflow streams running along the road. The Curve Historical Center was not open, unfortunately, didn't open till 10, but we did see a train going by. We slipped through the tunnel and headed for Tunnel Hill. I took the opportunity to stop at a supermarket on the way and bought some Del Grosso spaghetti sauce, a local brand that's delicious and cheap; can't beat that!
It was an absolutely stupendous day, mid-70s and no humidity to speak of, blue skies with wispy white clouds. We got into Tunnel Hill and stopped to eye the Gallitzin Tunnels: 3,605 feet long, chopped through rock with picks and shovels by Irish immigrants at an altitude of 2,167 feet above sea level. The northern tunnel's closed now, as the southern tunnel was expanded; I'm told this is one of the best spots for train-watching in the east, if that flicks your ticker. The tunnels and the Curve celebrated 150 years this past July 4th, evidently quite a shindig.
From there we went to Nanty Glo, a town I've always wanted to visit. It was just a typical Pennsylvania hill town, but I finally found out where that odd name came from: it's Welsh, Nant-y-Glo, for "Valley of Coal." Nice enough, and we left for Johnstown, stopping at the Johnstown Flood National Memorial on the way; the place where the dam on the Little Conemaugh gave way, starting the flood. Hard to believe that this green valley was a large man-made lake.
We got to Johnstown Brewing right at 11:00. I sent the family down into town to do some recon work, and went into the pub, looking for partner Ralph Lovette. After some banter with the waitresses, I found him and started even more good-natured banter. Ralph's pretty happy these days: "My God," he said in a slightly stunned voice, "we're selling a lot of beer." Ralph, buddy, we call that a good thing!
Ralph left me in the care of his new brewer, Barrett Goddard. Barrett's a quiet guy, but not a dullard by any means; it was a good conversation once we got warmed up. He's certainly no slacker when it comes to beers. He has taken this lineup and shaken the hell out of it, and I'm expecting some very good things, like the upcoming hefeweizen that I'm trying to figure out an excuse to visit and try. The Steelworker Stout is already nigh onto perfect, a classic dry stout. "I learned a few tricks about stout from Ned Strauser," Barrett said with a grin. "I don't want to talk about them, but they work, and I won't be doing anything more to the Steelworker. It's where I want it." Great stout, increasingly hoppy pale ale, a good pilsner, brown ale with real flavor to it...Johnstown's definitely worth a stop for beer.
After our tasting session, I joined the family down on the deck ("We had to double the size of the deck," Ralph told me) for lunch. We were all pretty much knocked out by the food, and the service was the best I've had in three trips to Johnstown (including the first visit, where I was sitting talking to Ralph!). Thomas had a pizza that looked and tasted just like the ones I'd had in Rome. Nora had an "Old Conemaugh Boro Italian," a collection of great Italian charcuterie baked till it all melded together, and I had a sloppy great burger that was everything my burger at the Knickerbocker should have been. The meals were served with house-made potato chips that were excellent; thick, crisp, and not greasy or overly salty.
We got back in the car (everyone saying that they'd be happy to come back again) and headed down the hill towards town, where I stopped in to visit the Boulevard Grill. Highly recommended by one guy on Pubcrawler, the Boulevard recently closed and then re-opened. It was definitely open today, though I was the only customer; not real surprising when you're in outdoorsy territory on a beautiful Friday afternoon at 2:00. I asked the bartender for a glass of Penn Weizen (from a choice of Stella, Pilsner Urquell, Bass, Guinness, Boddington's, Hoegaarden, Newcastle, Penn Pilsner, Yuengling, and Pabst).
With a couple sips in, I took a look around. Nice place, honey-colored wood paneling, an upstairs, and...a big space in back. What's back there, I asked the bartender, and she offered to take me back and show me the "Warehouse," a larger space for live entertainment. But just as we started back, partner Don Kasprzyk walked in, and she introduced me as "a writer." I shook Don's hand, and handed him a card as I introduced myself.
"We've got your book!" he exclaimed, and towed me back into the Warehouse. He showed me around, and let me in on the miserable state of beer wholesaling in Johnstown. He'd love to get more taps in, particularly of PA micros, but there just aren't any wholesalers who carry them. (Brewers and importers, note to you: there's a guy in Johnstown who wants your beer and can sell it. Push it to him!) But he's trying. With luck, by the time Pennsylvania Breweries 3rd edition is ready for a book signing at Boulevard Grill, we'll have more beers to toast the event.
That was about it for the trip. We fired up the van, drove down through the mountains to I-99 and the Turnpike, my dad took over driving while I took a nap, and then I drove the kids home. We had some pasta with the Del Grosso's sauce, and it was real nice.

7/17: Curt Decker upon realizing that Spanky has done the Royal Stumble again.

7/17: Michelle and Ed, gushing geishas.

7/17: Chris LaPierre and a woman who claimed to be dressed as "the Iron Hill bird," celebrating Iron Hill's big win.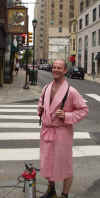 7/17: Standin' on the corner, watchin' all the geeks go by...

7/8: Marzoni's brewer Bill Kroft w/regulars Mark & Jeff (note Mark's Pennsylvania Breweries lying on the bar!).

7/8: Proud (if faded) faÁade at Knickerbocker Tavern.

7/8: The patio at Knickerbocker Tavern (Mum in the lower corner).

7/9: My son Thomas, by the Gallitzin tunnels.

7/9: Johnstown Flood Memorial
7/17: Yards Philadelphia Pale Ale: 5.7%ABV, Yards Brewing Co., Philadelphia (Kensington), PA (draft, at Standard Tap and the Royal Stumble (see left)). Yes, you've probably all had it before. I've had it a number of times, and like you, I've usually thought, if Yards is going to make a mass-appeal beer, couldn't they make it more...appealing? Well, folks, get off your butts right now, get out to your local tavern and get a pint of the new Yards Philly Pale, because it is outstanding. They've lightened up the body with a good dose of Pilsner malt, changed the hops, and the result is like my uncle's old GMC V8 pickup, a light-bodied high-powered rocket sled that's a real kick in the pants to drive. Imagine if Moses had looked a little harder in the desert for a rock that said "pale ale" instead of "water" and hit that with his stick: Philly Pale would have come out of the rock. It's that pure and refreshing. Think of your first drink of Sierra Nevada Pale, and then jazz it up a bit, crisper, more refreshing, but every bit as tasty. This is the best, smartest thing Yards has done in three years, I swear. Not recommended: this beer is required.

6/22: Stone Imperial Stout: 9+%ABV, Stone Brewing Co., San Diego, CA (brewery sample). Opaque black, even at the edges, and the pour was fairly viscous. Head is like coffee foam on a French roast. No obvious alcohol aroma at this temp (about 50F). Smell of charred graham crackers: promising. Even more promising is a hint of fruitiness. Whoa! Now the alcohol comes through. Taste it: this is not as heavy and thick as I expected. Itís more like a wine, with residual sugar body. Lots of light fruitiness up front, and a heavy finish that curls up on the tongue and makes itself comfortable. Thereís a real dangerous rocket fuel aspect to this. But it is nowhere near as crushing as I expected. No one would ever call it light and airy, but itís hardly the road tar it looks like, nor is it mindlessly hoppy. Dark bitter chocolate, overripe peach, a weird fleeting hint of honeysuckle, and always in the back the pinch, the pull, the bitter quench of the hop.
Itís warmed up some, now, and itís getting scarier. I feel like a character in some SF horror short story, taking notes in my lab as the frozen alien monster thaws on my examination table and starts to show signs of horribly unquenched life. The alcohol is going vaporous, the hops are swelling, the fruitís moving up in intensity...
Stone Imperial Stout was delightful, and I almost regretted offering to share the 22 oz. bottle with my wife. The beer's black, to be sure, and wickedly vaporous, but the mouth is surprised by a medium-bodied rush of juicy fire. Refreshingly varied, compared to some of the "club-with-a-nail-in-the-end" imperials that are out there. Definitely recommended.

6/12: DAB Low Carb: ??%ABV, Dortmunder Aktien Brauerei, Dortmund, Germany (brewery sample). Quite simply the best light beer I've ever had. I was surprised by this one at 92 calories and 2.0 grams of carbohydrates; it tastes superior to Lite, Bud Light, even Saranac Light, the other low-carb beers are completely outclassed by this one, a side-by-side with Michelob Ultra wasn't even fair. The DAB even looked better, with a real beer-yellow color and a head that at least formed, even if it didn't stick around too long. Clean and crisp, natch, but without the corn/rice overtones of American lights, and even a touch of hops and malt flavor. DAB's importer, BBUSA, kind of went overboard and sent me a case to sample, so I've been passing them out to friends who are on low-card diets. Every one of them agreed, this is by far the best low-carb beer available. And why not: DAB's had 30 years of experience brewing this for Germans as their Dišt Pils. It shows.