The Kind of Trip I Live For
(New stuff added: 2/27/05)
"Why do you need to leave so early?" Cathy asked. "You said it's not starting till 6:00. You could leave at noon and be there in plenty of time." I was packing for my trip to North Country Brewing in Slippery Rock, a long way out on the west edge of Pennsylvania. I'd been invited to the pre-opening party on February 19th, and I was determined to make it.
But a trip is a trip, and if I'm making a long one, I'm making it worthwhile. So I was leaving at 7:15 Saturday morning, and making some other research stops. Once I explained that, she smiled and gave me a hug, the kids trotted up and hugged me, the dog licked my knees, and I drove off into the dawn.
I headed up the Turnpike towards King of Prussia, took Rt. 30 through Lancaster (where I stopped in to say hi to my parents and buy cheaper gasoline), and took Rt. 283 up to Harrisburg. From there it was up the Susquehanna on the new 322 expressway, across the river, and...man, look at the time! I was way ahead of schedule thanks to leaving a bit early and no traffic. I stopped in Newport to do a little advance scouting. I was planning on checking out the Middle Ridge Tavern the next day on the way home, and wanted to figure out how to get there. A few turns, and some serious mapwork later, I had it zeroed in, and I left town on 322 again.
I ran 322 all the way up to Lewistown, flying along with traffic on the broad highway (except in the construction zone where they're finally widening the stretch through the narrow valley along the Juniata River). I peeled off onto Rt. 22 south, a pretty drive through valley farmland and small towns, and followed it into Huntingdon, right around 11:15.
I'd never been to Huntingdon before, at least, not to stop there; I'd been through on the train a number of times. But this was the first time I got a chance to look around, and I was pleased with what I saw. There's a nice little downtown area, with well-kept buildings and some interesting shops, cafes, and bars...and of course, that's why I was there. I'd heard good things about Boxer's Cafe, and I was here to find out how much was true.
Almost all of it, as it turned out. The place was striking, a real joint, with the bar along the left side and tables and chairs on the right, an open kitchen in the back. It almost looked like a soda fountain, and it turned out that it had originally been a pharmacy. The backbar dated to the pharmacy, a light-colored marble edifice with twin pillars and milky stained glass decorations.
Off-norm music played, and the whole place seemed dedicated to the alternative: lots of vegan/vegetarian items on the menu, a good number of interesting non-alcoholic drinks. Alcohol drinks were limited to beer; Boxer's has one of the state's dwindling number of beer-only licenses. What beer they had was reasonable. There were only four taps -- Hacker-Pschorr Dunkel-Weiss, Sierra Nevada Pale, Stoudt's Scarlet Lady ESB, and Molson Canadian -- but there was a cooler with a well-planned selection of about 60 labels.
I got the H-P, which was a good choice: it had just been put on and was pouring cool and fresh. I also got a cheeseburger sub that came cut in half on a retro little boomerang-shaped plate, mounded with shaved onions and hot pepper rings and well-dusted with oregano. It was delicious.
I paid up ($8, not bad!), and headed back out on the road, reluctantly. I could have spent more time there. It was a rolly-poly ride through ridge country on Rt. 22. I stopped for gas just east of Hollidaysburg, grabbed some Sobe Energy to keep the orbs open, and rolled on till I made a short detour for Marzoni's. Yeah, I've been there, and no, I didn't get to a couple places I still want to check out in Altoona (The Phoenix and the Monkey Wharf Hotel), but...I was driving by within 100 yards of the place: I'm not gonna stop? Ha!
Two seasonals were on, but both -- Weizenbock and Scotch Ale -- were just too strong to get a full glass and keep driving with a clear conscience, so I got a small Pale Ale. Very nice, clean, not over-done with hops, and a good sup. I did get a small taster of the Weizenbock: deceptively light and smooth, classic clove/plum/vanilla flavors and the full 8.2% ABV lurking in the background like a hammerhead shark. Good stuff. Onwards!
The sky was still mostly blue as I headed west. This is high ridge territory, and I drove up a long way till I crested out and rode along the ridgeback to Ebensburg, where I split off onto Rt. 422. I'd had another report of a decent beer bar in Indiana, PA, and that's where I was headed now. I got there in fairly short order (although it took a ridiculously long time to get one mile off 422 into Indiana), and it was in fairly short order that I wrote the following about the Ironwood Grill: "Not worth it. Right off the top, this is not worth a stop. Taps are mediocre and the bottles are worse. The damned bar is a loosely enclosed balcony, and my Yuengling tastes like raspberries. Screw this."
I'll say no more of this place, except that the bartender disappeared on me. All I wanted to do was pay my tab and get out of this hellhole, and I had to sit around waiting. To be fair, there was a fairly decent bottleshop on the first floor. My advice: buy two sixers and check into a motel.
Back onto the road, to wash the taste of that place out of my mouth. By now it was getting on towards 3:00, and I was hoofing it along 422. It was beautiful; the sun was sinking over long views of snow-covered hills, some heavily wooded, some bare with fallow fields. I really do enjoy this part of what I do, the travel, the new sights, new roads. I ramble along the road, cheering at each new sign, hill, curve, and forest. I've piloted the Jetta over many miles, and I'll miss her when we trade her in this year.
Eventually I hit I-79 and headed north. It wasn't quite time to call it quits yet. I'd heard about a place in Sharon that was supposed to be an oasis in the craft beer desert between Erie and Pittsburgh (as is Four Sons in Titusville, and now North Country in Slippery Rock), the Chestnut Street Cafe. After a tour of Sharon's thriving industrial section, I found it easily, an unpromising sign on a brick building block that looked abandoned, just off the main strip of downtown. But I've rarely walked away from a place without so much as sticking my head in the door (Watertown, NY, provides half the examples of such behavior), so I parked, fed the meter (on a Saturday? in Sharon?), and walked in.
Glad I made the trip. The Cafe's main floor was a soaring two-story room with a pressed tin ceiling, a long bar with some friendly old wear on it, an original interior brick wall; dark, soothing wood everywhere. Taps were promising: two Tröegs, two Victory, three Great Lakes (and I quickly ordered up an Edmund Fitz Porter), Penn St. Nik Bock, Fat Dog Stout, Arrogant Bastard, Spaten O-fest, La Fin du Monde! And a big blocky Veltins tap on the end to cap things off. The whiskey selection was okay, I was thinking, and then I saw the little exclamation point on the end: Weller Antique. Hello, darling!
Well, I'll tell you. It would have been all too easy to spend an entire afternoon here, and the Edmund Fitz was tasting great, and the bartender was attractive...but the rest of the guys at the bar were yahoos, and I'd heard that upstairs and downstairs at The Nut were swill-sucking goof-fests...and besides, I had to get down to Slippery Rock. So back on the road, a quick fill-up and cup of coffee, and I was free-wheeling down to Slippery Rock.
I still didn't have a place to stay. I wasn't worried, I mean, it was February in Slippery Rock. So I called ahead to the Evening Star Motel, which I figured would be my back-up. One of the first things the guy said was "The rate is $50.12 for the night," practically blurted it out. Bad sign. Sure enough, when I cruised by, the place looked pretty spartan. I wanted something a bit nicer. I tried calling the Apple Butter Inn B&B, and got what I wanted: directions, breakfast, friendly phone manners, and a rate that was only ten bucks more than the Evening Star...if I paid cash. Sold! Five minutes later I was checking in, paying cash, and heading upstairs to my room. Nice room, too, with real heat, clean linens and bathroom, no weird broken stuff, and not too frou-frou. Good. I brushed my teeth, set the alarm, changed my shoes, and headed back into town.
I had noticed a disturbing number of police cruisers on the way to the Inn, and saw them again now: a town cop, and two State Police cruisers. I got a funny feeling about it, remembering that the owner of the only other bar in town was connected to city government. So I carefully parked the Jetta facing towards the way out of town I wanted, right across the street from North Country, and resolved to drink a lot of water. It was time, 6:05, and I crossed the street.

At Last
It's opening night, right? So the last thing I expected to see was Sean McIntyre in the front window, doing the brew-monkey routine, hanging hoses, straightening out, dressed for a day of brewery work, but of course, that's where he was. I tapped the glass, waved, and headed around the corner to the big wooden door that still reads 'COUNTY MORGUE.' Because that's what it was, way back.
Sean shook my hand, and offered to show me the fermenting room. Things were right as rain (although the damned ceiling is still too low!), and all squared away. Sean is one cleanly brewer; busy, too. He'd been in since 4:00 AM, tweaking and fixing and getting ready. Should have figured. We shook again, he suggested the cask IPA, and I headed out to the bar, and caught the seat right on the corner, where the dragonfly joint is inlaid in the surface.
Good reasons for sitting there, too. Andrew Maxwell was sitting there, with his wife Melissa, who I hadn't had the pleasure of meeting before this night. Andrew's the brewer at John Harvard's in Monroeville, and Sean's partner in the brewing side at North Country. They're actually providing brewing services to Bob and Jodi.
I ordered up the cask IPA. It was a surprising yellow, but I've had some good ones at that color level. This one...wasn't. I was shocked. There was something off in there, the hop flavor was flat, and the perky yeasty freshness you look for in cask wasn't there. I got worried.
I talked to Andrew and Melissa and absorbed ambience. The place looked great, all wood-detailed like they'd planned: little footprints, tree knots carved into pig snouts and howling dogs, that kind of Adirondack look of rough wood. I worked my way through the pint of IPA, being polite, and asked for some samplers.
Much better. Whew. I started with the lightest, Northern Lite, an ale-brewed light beer: "Impressive amount of flavor, a touch husky." It was plenty drinkable. The Amber Waves of Grain really took me: "Like fresh whole wheat bread. No, really, strikingly so, and with some underlying sweetness." I liked this one, and recommended it to other people through the night.
Sean's family was in by this point, and I met his dad and his brother, Shane. Nice guys, and things got a bit happier as the beers flowed. His dad, by the way, was drinking IPA and loving it. Hmmm...
Next up were the two stouts. Two? Sure, why not? First was the Stone House Stout, an Irish dry. "Perfect plus. If you like dry stout, just the way it is -- Guinness, that is -- you might not like this -- cuz it's "more so." Every bit as drinkable, but roastier, a bit bigger." I really liked this one. Next was the Buck Snort Stout, which Sean tells me was supposed to be a full-bore Export style stout...only Bob forgot to dump one last sack of malt into the mill. Doh! I tell ya, hard to get hired by good help these days... Anyway, as a 3/4-weight Export stout, it worked: "Smoother, bigger, not quite rich. Well-differentiated from the Stone House."
Time to jump into the push-tap IPA. Paleo IPA, as it's called, is a light golden color, unfiltered and so just a bit hazy, and brimming over with hop: "Centennial, Cascade, and Northern Brewer (Sean told me, I didn't guess), this is a piney, pithy, non-nonsense hoppy golden IPA." Much more assertive and clean and hammer-down than the cask. I have to believe there was a problem somewhere there in the cask that will get cleaned up almost immediately, because there was nothing wrong with this glass of beer.
Next two were beers I would rarely order on my own, the Wolf Creek Red and the Squirrel Nut Brown. The brown, well, it's just not my cuppa tea: "More orange than brown, not sweet, not hoppy-fresh. Could maybe use a bit more of something, but...good as it is, for what it is." But the Red, well, I would have been just stupid not to order this: "The Red is happening, almost busy. Lots of malt and yeast character, plenty of "flavor." A bold Irish-type ale." This was perhaps my second-favorite, after the Stone House. (3/1: just got an e-mail from Bob: Wolf Creek's been renamed Station 33 Firehouse Red in honor of the local volunteer fire company, and a percentage of sales will go to them as a donation. Nice.)
The last beer I sampled (and these were samples, by the way, little three ounce glasses; I remembered those cops!) was the Paddler's Pale Ale. This was simply a clean, moderately hoppy pale ale, the kind of pint-after-pinter card-playing beer that usually gets overlooked these days...except at brewpubs. "Real drinkable, not over-done." That's not damning with faint praise, either: I love this in a beer.
I talked to Sean a bit about brewing philosophy. He's going to make drinking beers, with the occasional big boy, but doesn't expect to be able to make lagers for a while; just too busy. He's probably right. He did scare me for a moment when he talked about not doing over-the-top funky stuff; but laughed and assured me that he would be re-creating the Weizenbock I had loved so much at Valhalla.
Work was over. I had some fun, swapping stories with Andrew and Sean and Melissa, talked to Shane, sampled a really delicious ploughman's platter (worth it almost alone for the mustard) and a cheese-dripping gooey quesadilla with caramelized onions. I got to talking with a woman who sat down beside me and turned out to be Jodi's sister, an art teacher who now lives in Baltimore. I took a look around the place more fully, noting the carvings in the men's room (and forgot to go in the ladies' room, which I heard was a great visual as well), the beautifully turned shelf supports behind the bar (check out the man and the woman, they're pretty much anatomically correct), the cozy connection of small dining rooms.
Oh, I suppose I should be used to wishing every great place was just down the street. But I'm not. I wish this place was just down the street. Or at least that I had more excuses to go to western PA. It's getting interesting out here. Matt Allyn's looking at leaving Four Sons (which he always said he would once it was up and running) to open his own place in Meadville (which makes Four Sons a good opportunity for a good brewer who likes the country). Johnstown Brewing and Marzoni's are ticking over with nice stuff. Hereford & Hops is coming into Cranberry Township, Mark Davis still plans to brew at the Bottleshop, Scott Smith has things running at East End. Beer bars are popping up in unlikely places. Western PA is hot for beer, and I don't see that changing. If anything, this independent, almost ornery part of the state is going to grab hold and tear things up.
Enough. That's more like the upcoming March Buzz. I settled down for one last pint of IPA, and it was good. I started saying my good-byes, particularly to Bob and Jodi, who were (I've realized that I completely forgot to mention) really jazzed up. Understandably so, but, I mean, Bob was wearing a suit and tie. Unreal. I made sure to get a picture of that, it's like a total solar eclipse. I thanked them, wished them the best of luck, and stepped out to the car. I had one last look at the place, full of happy people, tired people, relieved people. As Jodi's daughter said, "It's kind of weird. It's not ours anymore, we have to share it." Step up, and let the sharing begin. I drove to my bed without incident, took a few last notes, and sacked out.

Homeward, But Not Without a Struggle
I went down for breakfast. Mmmm, fresh-squeezed OJ, a bacon and cheese omelette, and a banana. Nice little dining room, though a bit overdone in the decor -- I have very simple tastes. Back up to the room, grab the bags and jacket, load the car, and off I go. It was a quick trip up to I-80, where I aimed it east and let her rip.
I decided to get off at the exit for Clearfield, just to see if I could stumble across Denny's Beer Barrel Pub, home of the infamous 6 Pound Cheeseburger. See, someone finally ate one in three hours, after years of attempts, and now it's gone from their website. So I wondered if they'd lost heart after having been bested. Alas, I couldn't find the place, so I blew on down Rt. 322 towards Port Matilda... hoping for a different meaty rendezvous.
And on the far side of town, there it was: Clem's. Clem's BarBQue. I held my breath: the OPEN flag was out, but it was 10:15 on a cold Sunday morning. I walked in, and saw Clem Pantalone flipping racks of ribs over the fire pit. I know I'm early, I said, but do you have meat? "Yeah, we got it, what do you want?" Yes! Clem works with oak, not hickory ("I think hickory puts too much flavor in the meat," he told me, "you want to taste the pork, too."), and he uses fire, not just smoke. It's an interesting heresy, and one I'm perfectly happy to indulge Clem in, because this stuff is excellent. I dropped some money and bought two pounds of "pork bbq" (kind of like pulled pork, only in bigger chunks and covered with Clem's tangy-sweet tomato-based sauce) and a half-rack of baby back ribs. "I'm taking them home for dinner," I told myself virtuously.
HAH! After 10 minutes of smelling that porkmeat, I jumped off the bypass around State College, ran into Wegman's, grabbed a Coke and a crusty fresh roll, and ate that half-rack right off the trunk of the Jetta. I sucked the ribs clean, and it was delicious, goofy-good, damn near lean for ribmeat, and dripping with sauce. I'm not a big sauce man, I like the meat, but damn, that's good sauce. I'm afraid I kind of inhaled them, too: I got two bites of roll, and one sip of Coke by the time the bare ribs were bouncing in the styro. Oh well. It was GREAT!!!
Groan. Yum. Wish I had more. Back in the car, fire it up, head down past Lewistown to Newport, and back through town to find the Middle Ridge Tavern, as I'd planned. It was a good five miles out of town, and when I got there, it was closed. Didn't look like much, to tell the truth, didn't look anything like the place I'd heard described. So I left, quickly, and headed down over the hill. After some mapwork, and a lot of the fun hill and dale driving that Pennsylvania provides, I came out on the west bank of the Susquehanna, north of Harrisburg, in Marysville.
I was here for my last stop, the Marysville Tavern. I had heard about this place from three different Pennsylvania brewers, which is more than sufficient reason to stop and have a beer. So I did, a Tröegs Nugget Nectar, and it was mighty nice. The Tavern is on the river side of the Rt. 11/15 four-lane, you have to go under the roadway in a little tunnel that the locals apparently call the subway. When you come up, you look right, and there's the Tavern. The beer's decent -- three Tröegs were on tap that day, including the Nugget and Mad Elf, there was Dogfish Head 60 Minute, and Franziskaner Weiss. Not a great tap selection, but okay. The place itself didn't do a lot for me, despite the river view. Might be a lot better in the summer; they have a deck out there. I sank my beer and left.
And then I went home. All good trips must come to an end, especially the short ones. And that's the end of this one.

2/19: The bar at Boxer's. Note the stained glass and marble. Cooler is to the left.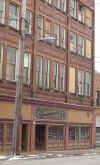 2/19: Chestnut Street Cafe: exterior appearance is deceiving.

2/19: My room, Apple Butter Inn

2/19: North Country Brewing was finally ready for action.

2/19: The dragonfly joint on the bar. Note regular butterfly joint above for contrast.

2/19: Melissa and Andrew Maxwell w/Sean McIntyre

2/19: Sean gleefully works the taps.

2/19: Sean, Bob McCafferty, and Jodi Branem; proud of their accomplishments, and rightly so. Note the sign on the door, and Bob's tie.

2/20: Clem's. Note the sign: "Open 11 AM to 7 PM (sometimes earlier, some- times later)"

2/20: Marysville Tavern (note faithful Jetta in lower left)