Hey, Another Good Day!
Ah, the winter solstice. It's cold, it's clear, it's time to head up to Mechanicsburg and proof out Pennsylvania Breweries 3rd Edition. So I vaulted in the Jetta and did that. About halfway through the manuscript, Kyle Weaver, my editor at Stackpole, says, "It's noon, want to get lunch and finish this after?" And I suggested we go in town to Appalachian Brewing, have lunch, and finish the editing there. Besides, I said, I need production figures from Artie Tafoya, and there's a good chance we can ambush him there.
So that's what we did. Things were a bit busy with office Christmas parties, and ABC does a big lunch crowd, but they slipped us into a two-top. We ordered pints of Volks Weizenbock, one of my favorite ABC seasonals, all funky and rich. Sure enough, there was Artie, sitting at a table farther down the floor. I waved and went on down.
"Hey, I know I need to get you those figures," was the first thing he says to me. I know, I told him, that's why I'm here! "Well, there's a running count there by the bar," he pointed out. 4,715 barrels as of today. So...what, 4,800 by year's end? "No, we'll do 75 this week yet, and another 100 next week." So come on, Artie, gimme a figure. 5,000? What the hell, everyone lies, Artie. "I don't need to lie!" he said with a big grin. "Make it 4,900!" Okay!
Kyle and I had our lunch. He had the apples and sausage, I went Hog Wild pulled pork. Good eating, very good eating. We finished up and got to work on the manuscript, I ordered a Susquehanna Stout to sip on. It was really good, nice batch: black as the basalt basement of hell, roasty, but still a good layer of rich graham flavor. Artie walks by, stops, grins, and says, "Nice batch of stout, isn't it?" Yeah!
Two minutes later Artie was back with tasters of Hoppy Trails IPA, their newest seasonal. "It's not on till 7:00 tonight," he said, "but I figure you can have some. The beer has a very cool double-barreled effect. It's bittered and finished with Columbus, Centennial and Cascades, and dry-hopped with Styrian Goldings. The Goldings come through big up front, earthy and very Brit-charactered, but the finish is All-American, pithy, piney, puckery. Real artistry in an IPA.
We finished up the work, headed back to Stackpole, and I said good-bye to Kyle, and picked up a cup of coffee that was too hot to drink. Back across the Susquehanna to Tröegs, where I quickly got into a glass of Oatmeal Stout, courtesy of Ed Yashinsky. Soon Ed, Chris and John, and Chris Brugger and I were swapping lies and drinking Mad Elf, Van den Hoorn, and Troegenator. Today was Beef Day, when the farmer who takes their spent grain brings in one slaughtered, butchered cow for the brewery crew: 800 lbs. worth! "Want some beef?" they asked, but I had to decline.
What's new? Well, there's a new brewhouse coming, which is pretty big news. John showed me how they plan to put it right beside the current brewhouse, changing functions and utilizing both sets of vessels to get -- I think I remember this correctly -- a potential 10 batches a day. The brewhouse ships from Germany in January, and John's pretty excited about it.
I had to keep moving, so I got growlers of Troegenator and Mad Elf to go, said good-bye, and headed up the river, swilling the now-cold coffee as I went. I was headed up to Selin's Grove for their 8th anniversary. They opened on the winter solstice, and celebrate that every year, a pleasant event I'd managed to get to three years before with my wife. I got there about 5:30, running the Jetta fast past a Susquehanna flowing with chunks of ice.
Selinsgrove is such a pretty little town in the winter. They put up lights, and the main street has a bunch of nice homes and shops and trees. I whipped the Jetta into a u-turn across from the brewpub, and parked it on the opposite side of the street. Down the steps and into the pub, to meet Mid-Atlantic Brewing News's Baltimore columnist Sandy Mitchell and his new wife, sitting at the bar. I pulled up a stool beside them and got into a glass of Shade Mountain Oatmeal Stout. I got there early enough to get one of the 96 free pint glasses, too.
The Shade Mountain was not quite as good as I recalled. I worried about this for a minute, then got over it. Sure enough, about then Steve Leason came along, we talked, and it turned out that almost all the beers on that night were first batches off the new/used brewhouse. So I mentioned my feelings to him, figured I might as well. I ordered up the scallop-mushroom pie and a half-pint of IPA on cask. Very nice stuff indeed, despite Steve's grumbling that it's becoming the biggest seller. Beautifully conditioned, too.
Speaking of beautifully conditioned, Steve trotted out a small sample of Groaning Ale, the galactic-class imperial stout they made when their son Owen was born. Ouch. This stuff is getting seriously good as it ages: rich, black, schwing! I followed that up with a half-pint of White Horse Porter, and that was excellent stuff, real prime, classic porter, ur-porter. I got a growler of that and the Razz-Merry, which was delicious (I had a sip of Sandy's).
I topped off the night with a small snifter of 2003 St. Fillin's Barleywine. It positively glowed with malt, richly twisted and glorious, one of the best barleywines out there. Had a good little chat with Steve just before I left, then I headed down the river. It was 8:00, and I really should have made the three-hour drive straight home, but...Heather had told me about a bar down in Newport that sounded so good I put it in the book, sight unseen. It was time to fix that omission.
I kept my eyes open headed down 11-15, and caught the turnoff for Rt. 32. It led me over the hills to Newport, but I couldn't find diddley. I called Mastracchio's, and they guided me in -- five miles down the river from Newport. Good thing I called. As it turns out, they're just over the guide-rail from Rt. 322, the hardball road up to State College, so now I know an easier route.
Anyway, the place was quite unassuming, looked like any other rural bar...except for the big Franziskaner banner on the side. Okay, we'll take a look. I went in, got a HopDevil (they were out of most of the interesting bottles) and hung out for a while. Then the owner, Lou, came in, and we talked. This guy is passionate about beer, and I want to do everything I can to help him. I'm going to set him up with some people for his business, and I'm gonna tell you guys: go to this bar. If you like relaxed, clean, country bars, this is a great one, because how often do you find decent beer in one of 'em? Definitely deserved to be in the book.
By now I was exhausted, so I finished up my HopDevil and headed for home. Two and a half hours later I was in bed, telling Cathy that Heather and Steve said hello.
Just a Damned Good Day
Today was my anniversary. Cathy and I have been married for 15 years today, and I have to say I'm very happy about it. I'm not going to go into the sentimental details, but...she's supported me in this job, she's encouraged me, she loves me, and she loves good beer. I'm not complaining!
She took today off, not for our anniversary, but to clean and prepare for our annual caroling party next weekend. So we went out to breakfast (the Great American Diner in PennDel, PA, had a breakfast burrito that was delicious, so-so coffee), made plans, and exchanged lists on what to get for the party. And, I said, why don't we meet at Isaac Newton's for a beer around noon? We're home together for that so infrequently. Okay, she said. Cool.
I got gas, picked up a little caffeine to go, and headed back to Newtown. I stopped at Centre Beer, my local beer store, shot the breeze with Dennis, and finally agonized my way to a purchase decision: a case of Stoudt's Pilsner. I already had a case each of Victory's Storm King Stout and Hop Wallop at home, just waiting for the party.
Now it was time to buy wine. Cathy's idea; she thinks that having wine at the party puts people at their ease, because they then know that they don't have to drink beer. As if I'd stand over them with a club! Walk next door to the State Store and I quickly picked up two bottles of merlot (Firestone and Toasted Head, if you're interested). I was supposed to get two more bottles of pinot grigio and a bottle of shiraz, but I noticed I was in the "Italian" section, and I thought, might as well check. A woman was stocking bottles, and I asked her: "I had a wine in Italy last year that I really liked, could you help me find it? Dolcetta d'Alba?"
Okay, normally State Store employees are clueless. Sorry, but it's true. If they haven't heard of it, "it doesn't exist." This woman started volubly speaking of the origins of the varietal, the differences among the different strains, and the regions where it's grown. "Are you a wholesaler?" I asked, and sure enough, she was, Gina Pio Cossman, director of marketing for Pio Imports, an Italian wine importer that also reps for a number of Scotch whiskies. And while the store was out of her Dolcetta d'Alba, she did sell me on a bottle of Pio Barbera d'Alba, a wine she told me was like the Dolcetta, but more robust.
We exchanged info as well (can't let a networking opportunity go by), and I went off to get my pinot grigio (I got Turning Leaf and Montevina) and a bottle of blanc de noirs sparkling wine (Piper Sonoma, because I didn't see the Chandon I usually get) that has become a caroling party tradition with me. I always get a bottle, because it's very good with the roast ham I always make for the party. But no one ever drinks the blanc de noirs, so after everyone leaves and the family goes to bed, I make a big ham sandwich with butter and mustard, put something like Blade Runner on the VCR, and drink the leftovers. A pleasant tradition.
I wasn't done. It's been a pretty good year, writing-wise, and I decided to reward myself. I knew just what I wanted, and I walked right to it: Redbreast. This wonderful Irish whiskey is pure pot stilled, and the malt that comes out of it is simply grand. I looked at the price and forced a smile, and put it in my basket. Then I looked down and what did I see but Apfelkorn, a deliciously well-made German apple schnapps that I like as a digestif. So I bought that, too. Get the hell out, I thought, and grabbing a small bottle of Kahlua Cathy needed for a recipe, that's just what I did.
I went and got a haircut, then headed for Isaac's. It was starting to get really cloudy and gray by this time after a sunny morning. It was quiet at Isaac's, just a couple people at the bar as I sat down and ordered a Lost Coast 8-Ball Stout. Good, and with a gorgeous dark brown head on it. I got all over that, and was sipping on my second, a Sierra Nevada Celebration, when Cathy walked in the door. "Taste this, isn't it grand?" I shoved my glass at her. "Mmmmm, yes, I'll have that!" she told our bartender.
We talked and sipped, and then the bartender came over. "Would you like another?" he asked. Well? "Oh, if I have another I'll have to have lunch," Cathy says. Damn, I think. "Let me see a menu," she says. Yeah! We ordered Caesars, a house specialty, and got a bottle of Lindemans Cuvee Rene 1998 to go with them. Delicious stuff, tart and funky.
Then Glenn Blakely walked in, the manager. I've known Glenn for years, and he comes over and immediately asks me to taste a new keg of Left Hand ESB he got in. It tastes dead, lifeless, and he concurs. He's concerned, because they sell a lot of Left Hand ESB, so he tells me he's going to call the brewery directly. And then he bought us a beer.
Ouch. I got an Indica IPA from Lost Coast, Cathy had a mixed beer: 3/4 Young's Chocolate Stout, 1/4 Lindemans Framboise. I am embarrassed to admit how good that mix was. We finished the beers, and we went home, and I actually went straight to work, editing a final piece for the next issue of Malt Advocate.
And tomorrow I do it again, for Sly Fox's IPA Project. Oh, truly, my work is never done.
Out in the Flat States
Back in the spring, while at WhiskyFest Chicago, I was invited to fly out to Wichita to speak at the Midwest Beer Festival by a wine salesman and total beer and whiskey enthusiast named Todd Lange. I gave him my card and told him to e-mail me, and I have to admit, I walked off thinking Wichita? Really
Sure enough, he e-mailed me, and eventually we agreed on conditions: mainly that the beer dinner would be a bit more gutsy than the previous year's, and that I could fly in to Oklahoma City on Wednesday so I could visit my friend Bob Rescinito. Bob's with the FAA, a guy I met through a long-running Friday night chat room called the No Bull Inn, and he's been out to Philly a couple times. He's also a king-bull homebrewer and mead-maker, and has a pretty sharp palate.
I packed up and left early (real early, for me: 5:50 AM), taking the SEPTA commuter to Market East, where I picked up the R3 to the Philadelphia airport. After uneventful flights and a connection in Dallas, I landed at Oklahoma City, picked up my bag, and met Bob at the gate. We threw the bags in his Sierra club cab and took off.
The rest of the day was pretty quiet. We raided Bob's beer fridge for Boulevard Bob's 47 (a nice fest-like lager), some of Boulevard's Stout, and took a look in the guest room's bathroom, where Bob keeps his mighty Belgian stash of beer. We picked out a Vuuve and a Lindemans Cuvee Rene for dinner. Dinner was brisket and ribs, done in Bob's home smoker, and they were delicious. I met Bob's delightful wife, Rose, and their daughter, Elizabeth, and we all settled in for a relaxed evening. I hit the hay fairly early.
Thursday: The State of OK Beer
Bob and I had a leisurely breakfast of leftover brisket, fruit tart, and pecan pie (Bob's own; he's quite a cook), then headed into town to visit Huebert's Brewing. It was down towards the Mexican section of town, and as we drove along under a low cloudy sky, we saw taquerias, bodegas, and all that good-looking, good-smelling kind of stuff that was putting a powerful lure on me. After not being able to find any kind of Tex-Mex for lunch at the airport in Dallas, you bet I was jonesing. We got into the parking lot of Huebert's unassuming building just before I went burrito-berserk.
Rick Huebert is running the only production brewery in Oklahoma, and he's making "strong beer;" that is, over 3.2% ABW/4.0% ABV. Some breweries make 3.2 beer, some make strong beer: two different licenses. People: I have to admit, Oklahoma's beer laws baffled me. I thought I could get a grip on anything in the way of screwy beer laws, but I couldn't figure out why some things were illegal and others were legal and some were required... I gave up.
We met Bob's friend Tim Nagode there, another homebrewer and member of the same homebrew club Bob belongs to, the High Plains Draughters. Tim actually joined us shortly after we started on a short tour of the brewery. One of the high points was Rick's home-built keg-washer, a contraption of pipes and valves on wheels, backed up by a pair of home water heaters. They're not in use any more -- Rick runs steam right into the system from his boiler now -- but it was easier to leave them on than to take them off, and they look great there.
Unfortunately, one of the low points was the beer, the "Old Tyme Lager." It looked good, and even had the right body and flavor, but the bottles we had in the brewery, right out of the brewery cold box, had a twang of sour to them; not over the top, but an incipient sourness. It was still drinkable; hell, I did drink it, because I didn't really want to get into it with this guy when he was nice enough to take the time to show us around. But I also asked him for another bottle to take with me, to make sure it wasn't just a bum bottle -- and it wasn't. I've e-mailed Rick about this, and I'm waiting on an answer.
I'd like to see Rick succeed. As I said, although it's got some problems right now, the beer is sound in its formulation, and probably just needs some process improvements. But things are not looking good for it out in the market, as you'll see in a couple paragraphs. Putting out infected beers is one of the most disastrous things a brewery can do; how you handle that problem can make or break your brewery.
Bricktown: the Pub, the Place
We thanked Rick, and took our leave. Bob took me on a quick tour of Oklahoma City's Bricktown, the old warehouse district, and then we wound up at the district's brewpub, the Bricktown Brewery. Bricktown is an extremely cool-looking place, high ceilings, dark wood, brick walls, and a expansive exterior that's well-decorated with restrained signage. We didn't eat (I was still stuffed from breakfast), but the food looked and smelled great: we could smell the smoker outside when we parked.
Once again, though, the beer was disappointing. Tim had got there before us and was sipping a sample glass of the Fest beer, which turned out to be the best of the lot (he then made the mistake of calling his office to see if they needed him: they did. Bye, Tim!). Bob and I both got samplers, and started tasting. The wheat beer, an American wheat with a slice of lemon, tasted more like lemon had been deliberately added to the beer, a tart, citric tang (the lemon slice had simply been hung on the side of the glass, not squeezed in)...which was actually pleasant compared to the sharp lactic acid sourness in all the other beers, save the newly-tapped (9 days before) Fest beer.
Their Lager wasn't sour, but was disagreeably stanky, smelling kind of like baby puke, or whiz-filled diapers. I hate to describe a beer with terms like that, it's imprecise and harsh, but that's as close as I can come to the very disagreeable aroma of this beer.
What the heck was wrong here? The brewers were hard at work, mashing in, as we sat at the bar, and I could have gone over to talk to them, but how do you walk up to a guy and say, "Hi, I'm from far away, I've never had your beer before, and will probably never be back to buy it again, but gee, it sucks. What did you do wrong?" Maybe some people are cruel or thick-skinned enough to do that, but I can't.
So I'm left to speculate. From the body, from the smell of the mash, from the color, I'm guessing these guys know what they're doing when it comes to actually brewing the beer, which leaves two possibilities. They may not be careful enough on their sanitation, allowing infection points to develop in the chain between brewkettle and taphandle. Or it may be that the beer just isn't selling fast enough. I saw a lot of macrobrewery signage in Bricktown, and a lot of people drinking from bottles. If bottled beer outsells house beer by a large margin, the house beer will get old and nasty.
But I still don't understand how a brewer (or a server, or a manager) can not taste that sourness in the beer and say 'We'd better take this off-line right now.' Brewpub owners/managers/brewers should taste the beer every day. They taste the food, don't they? Sounds like a topic for next month's Buzz...
Ech. We left, and walked through the light rain to Tapwerks, a large multitap on the next block. Bob had sent me a T-shirt from here a couple years ago, a fun one ("Beer like Mom used to make!"), and I really wanted to visit. The look, at least, didn't disappoint. Like other places in Bricktown, Tapwerks is big, dark wood and brick, and has that solid feel of age. Unlike the others, Tapwerks has just over 100 taps, almost all of them laid out in one very impressive line behind the bar; a couple were at the bar front, and there were three hand-pumps.
Hand-pumps? Fuller's! ESB, Porter, and London Pride. I asked for a sample of the Porter, cuz I love it so, and it was...guess. No, really, guess. You're right: sour. Dammit! Okay, So I got a list and checked it for new stuff, and settled on an Oklahoman GABF medal winner, the Choc Beer from Pete's Place, in Krebs, OK. "It's just a wheat beer," Bob cautioned me. Hey, Bob, at this point, if it was just unflawed, I'd be happy, and it was. The Choc was good; an American wheat, mainly, but with some good flavor to it, almost tasted like a hint of rye. Fortified by that, I asked for a quick sample of Huebert's: undrinkably, horribly sour. Bob warned me sotto voce that he usually ordered at Tapwerks by asking "What's selling well lately?" Slow turnover, the bane of multitaps.
Playing Tourist
We walked back to Bob's truck and drove over to the Oklahoma City National Memorial. He took me to a moving statue on the corner by the Catholic church across the street from the memorial: a standing Christ, his back turned to the memorial, hand to his bereaved face, with the legend "And Jesus wept..." I had to walk away. The memorial itself covers the half block where the Murragh federal building was, the street where the truck-bomb was parked (and I was fiercely pleased to see that no marker existed to show where the truck had been parked; there should be no memorialization of the evil men who perpetrated this atrocity), and the half-block across that street.
The street is now a reflecting pool, framed by "The Gates of Time," two large walls that are the entrances to the memorial, one marked with 9:01 and the other with 9:03, symbolizing how the lives of all involved changed in the time and space that was the explosion site at 9:02 that morning. The chairs of bronze and glass on the grassy slope where the building stood represent approximately where the victims were that morning, including the tearfully small chairs for the children in the day care.
Across the pool (which was drained for repairs that day) is the Rescuers' Orchard, a stand of trees dedicated to the first responders who reacted to the explosion. It surrounds the Survivor Tree, a 70 year old elm that -- somehow -- survived the blast at a distance of less than 50 yards, and continues to grow. It was there that I saw a piece of graffiti spray-painted on a wall by one of the firefighters that day that summed up the anger I felt as I viewed the memorial: "We search for the truth. We seek justice. The courts require it. The victims cry for it. And God demands it!" Amen, brother.
We left the reflecting pool area and climbed to the fountain. Bob pointed out the children's playground, still preserved, and it almost broke me. The sky opened up right about that time, and we legged it back to the truck. Bob drove me around some of the more interesting residential areas of the city, and we wound up at his wife Rose's framing shop, Pirate's Alley. Rose gave us a tour: this is not some little shop! There is a large store out front, and a highly automated custom framing operation in the back. Very impressive, very cool.
From there we went to lunch at Chelino's. I told Bob I wanted Tex-Mex after my Dallas Disappointment, and man, did he ever deliver. It wasn't much to look at, kind of looked like an old Dairy Queen with hand-painted decorations, but it smelled great. We started with chips and queso, moved on to tortillas and fresh-fried jalapeños, then got fully stuck into our big platters: tamales, enchiladas, mini-burritos, rice, beans, a fried egg on Bob's... We ate the whole darned thing, and left, happy and groaning. We didn't eat anything else the rest of the day.
Finally: the Beer Improves!
Next stop was Belle Isle, a two-level brewpub in the ground floor and basement of a high-rise. It was dark, the bar was a standard hollow rectangle in the middle of the room, and there was a big projection TV showing CNN...looked like a bar, a happy hour joint, not a brewpub. I gotta be honest: by the time I got to Belle Isle, I was apprehensive about beer quality, and I wasn't expecting much.
So I was pleasantly surprised to get a delish Oatmeal Stout; black, smooth, roasty-sweet. It was so damned good I had three of 'em. What the hell, Bob was driving, and besides: I'd taken on so much ballast at Chelino's the beer never had a chance. Bob had the FallFest, which was also pretty darned good. I was smiling now!
Tim joined us, out of work in time for a FallFest. We decided that we would run down to Norman to meet some of the homebrew club at Coach's. And that's just what we did.
Bob prepped me to meet Mike Groshong, the brewer at Coach's, by styling him as "the hardest working brewer in Oklahoma." I guess he is, because he's keeping three Coach's outlets in beer, as well as selling to outside accounts. He's working on a chubby 30 bbl. Specific Mechanical system, "the biggest system Specific has made," he told me, "the 4th or 5th largest brewhouse in the Southwest." Well, okay...how about some beer?
Actually, Mike asked us that question, and we said "Yeah!" He brought us a growler of his IPA, a fairly light-framed beer stuffed full of Cascades, Centennials, and Mt. Hoods, a "high, lonesome taste of hops," my notes say (I was getting in the spirit of things by now), and real nice to drink. We mostly watched Mike work (he really was sweating up a storm, too), then he took us out back to show us the festmobile, a beauty of a fitted tap-trailer, complete with a cold box and gas system.
We joined some guys from Bob's homebrew club for dinner (Okay, they were eating, we were still stuffed from lunch!), and got into some of Mike's Dunkel Weizen (sweet, tasty, with just enough of that weizen funk) and stout (quite roasty, and sporting real ale/ester character, something I love: I don't like stouts that are too clean). Mike may have been busy, but when he relaxed, he relaxed Good guy, good brewer. We talked some beer trash, then Bob and I headed up the road to our last stop of the day.
That was the Royal Bavarian. This beautiful re-creation of a German beerhall and beergarden sits by the side of the road between Norman and OKC, oil pump out back, flat land and big sky all around, and pulls it off. Pulls it off pretty well, actually. We pulled into the gravel parking lot about 8:45, walked through the empty beer garden (it was drizzling rain) and into the hall. The set up was even like a German beer hall: tray pickup for food orders (the Germans don't like waiting for waitresses!), high wooden ceiling, music playing (okay, it was two people playing banjo and accordion), and beer!
Bob had warned me that Tim (remember Tim?) had written a letter to the local paper about a review they did on Royal Bavarian's beer, spelling out how bad he'd found it, so...no talk about homebrewing. Okay, we just ordered two beers, a hefeweizen and an oktoberfest, since that was all they had on at the time. My hefe was a bit under-attenuated (meaning it tasted like it hadn't completely fermented, not uncommon in 3.2% Oklahoma), very clean (i.e., missing the usual hefe aromas of clove, banana, bubble gum), but it had a weird lactose sweetness, almost like sweet milk. Not unpleasant, but odd.
Bob's Ofest was quite clean, had that character of "clean as brewery air" freshness to it, and was really only marred by a caramel character...small potatoes, really.
We got introduced to owner Jörg Kühne, a tall, stocky German (duh!) with a big shock of blonde hair. He was happy to show off his brewhouse to us, and it was a beauty: all coppery and German in its very genes. We saw the lagering tanks and the serving tanks, all spotlessly clean, alles in ordnung. Then to our surprise, Jörg starts talking about how "They even write letters to the paper about how bad my beer is! I don't care, my sales went up 22%. I hope they write another letter!" Well, Tim? Heh.
Jörg was a pretty good guy, the brewhouse was great-looking, and Bob did admit that the beers were quite a bit better than they had been...although Jörg adamantly stated that they tasted just like the beer in Germany, which, I'm afraid, just ain't so. For one thing, even Jörg admitted that the hefeweizen is brewed with the same lager yeast as the other beers (which explained the clean profile, but still didn't cover the milk sugar thing). Still, they were head and shoulders above Bricktown and Huebert's, which should count for something.
The end of a long day, though, so we headed back to Bob's. I'd like to tell you how I fired up the laptop and worked my little fingers to the bone, but I sat and talked to Bob and his family for a bit, and then collapsed into bed.
Friday: Kansas, and All That Implies
We took another brisket and pie breakfast (I could get used to that), accompanied by small glasses of Bob's homebrew: aged braggot (excellent) and spiced ale (surprisingly excellent; I'm no spiced ale fan). Then we headed out into a sunny, misty morning just late enough to catch opening time at Bob's local booze store. Not a bad place at all, and some good bourbons (including the Hirsch 16 YO, which amazed me), and "every beer available in Oklahoma," a good but relatively short list. As Bob said, "That's why I homebrew."
We hit the road north on I-35. The day cleared more and more as we drove, and the scenery developed into the beauty of the plains: long vistas, high, towering castles of clouds, the lure of a minimalist landscape where every wrinkle of a gentle ridge, every green stripe of tree-lined creek becomes eye-catching, demanding an attention to detail that would be a mere "Oh, a stream" in the more busy beauty of the hills and woods of my Pennsylvania home. I have always enjoyed driving in the high plains (though it damned near drove me crazy one day driving solo from Kansas City to Denver); today was no exception, though I'll admit that Bob's company may have helped considerably.
Wichita came up on the horizon around 1:00. We weren't due anywhere until around 4:00, so we checked into our hotel (the Wichita Marriott), dumped our crap in our rooms, and -- what else? -- headed downtown for a beer. We wound up cruising down to Old Town Wichita, and passing up a couple good-looking bars to at River City Brewing Co., a solid-looking brick building with a big wraparound deck/dock. The building looked even better once we got inside and scoped out the big barroom, long bar, and easy-to-read beerlist. Nice-looking place, with that "come on in" feel to it.
We parked at the bar and ordered. Bob got an IPA, I got the stout. Both beers were clean, both were a bit sweet, but both were really good. Service was a pain in the butt, though. Distant at best (in the face of Bob's usually magical charm -- really, the guy's annoyingly appealing to women), the bartender was in the middle of taking our order when the phone rang and she just walked away on the first ring, mid-sentence. What, anyone on the phone is more important than a bar customer who's already in the middle of ordering? Come on, lady.
Food was good, though. The standard spinach-artichoke dip was good, with plenty of chips (a bit stale, but lots of them), the burgers were darned good (although she never asked how we wanted them, and I got medium, and Bob got the wrong cheese).
But she did get hold of brewer Dan Norton for us. Dan was very cool, hung with us, knew his brewing, got us some samples (had a nice brown -- chocolate-tinged, chewy -- and an outright delicious red -- crisp, hoppy, real west-coasty stuff), and then tapped out a sample of a young pseudo-lambic framboise he was making (it's definitely a bug-beer, and had a beautiful red color). He told us to be sure to get a sample of his Smoked Porter the next day at the Festival.
Did the service suck? No, not really, just a bit annoying at times. Was the beer good? You bet, food, too. All in all? A definite return-worthy brewpub, and if I get back to Wichita, I will take the time. But we wanted to see more beer in Wichita, so we asked where we should go next. I'd seen a bar with a Knob Creek neon in the window, and the bartender said that place was cool, but then Dan chipped in that there was a new bar with a bunch of taps, the Anchor, over on Douglas St., about three blocks away, that was pretty cool. Hey, he's a brewer. We went. On the way I called Todd Lange (remember him? The guy who invited me out?) and told him we were headed for the Anchor. He said he'd meet us there in about 20 minutes. Cool.
The Anchor Drinking Establishment was also cool. Very cool. Sagging as I was by then (out late the night before and sleeping away from home), the feature of the Anchor I was happiest to see was a monster espresso bar right in the middle of the long copper-topped bar! I fired up a Depth Charge, a triple espresso that got me wired and fired, and ready to face the 20 taps and roughly 200 bottles. The bar was one long, high, open room with a pressed-tin ceiling that was just rough enough. Wichita's streets out in this end of town were kind of plainsy: wide, open, and not completely filled (although the Anchor was right in the middle of a little sin-plaza, next to the Hell Bomb Tattoo parlor and Holier Than Thou piercing palace), and the wind blew right down the streets and through the bar. It was almost like something out of The Last Picture Show, just enough rough to it to feel right for cowboy boots and jeans.
Todd showed up about the time I was getting the Depth Charge, we re-acquainted, and all three of us got a Free State Ad Astra Ale. As Todd said, Ad Astra is tough to peg, stylistically: somewhere in the intersection of brown ale, pale ale, red ale, and amber...and good. We got it in us, then split for our cars to head back to the Marriott for the dinner.
A Sumptuous Dinner...and Good Beer
Bob and I got dressed. He's quite a sharp dresser, always neatly turned out, and I think my casual approach to sartorial upgrading left him gasping. I put on pants, I put on a shirt, and I wear comfy socks. Ragg socks. Which don't really go with the dress slacks and silk jacket I was wearing, but you know? I'm working here. I'm gonna be comfortable.
We headed down to the dinner room, and got there about 6:15. We grabbed the straight-cylinder Trumer glasses (very thin glass, quite elegant, and perfectly capable of holding beer) and poured ourselves this pale pilsner with the big hop nose and crisp bitterness. I got introduced to some people we talked, we drank, and eventually met Guy and Beth Bowers, the local AIWF bigwigs. Guy's got a wine and food show on the local radio station that I'd done a call-in to the weekend before, a lot of fun, and while he's mostly a wine and cheese lover, he had no problem appreciating a good beer. Beth worked at the local paper, and had helped organize my trip.
Bob took pix, and I grabbed a New Belgium Blue Paddle. Don't get me wrong: the Trumer is very good, but the Blue Paddle is a fave of mine, a soft, malty-side pilsner that's an all-day drinker. I got outside some of it while making the rounds, talking beer, and discussing last-minute menu changes with Guy and Todd. There are always last-minute menu changes at beer dinner, by the way. Chef can't get this, or bar manager thought this beer would be better (which usually means he got it cheaper or he got a kickback or he doesn't really care and the wholesaler was pushing it this week), or the wheels completely fall off and you find yourself pairing coq au vin and Busch Light. Happily, the only thing that happened was that the chef (Peter Moretti, a gifted man) decided to substitute some very nice beef tenderloin he had lucked into for the beef in the sauerbraten. Oh. Okay.
I gave a short address on beer's image, based on the October Buzz, and it was quite well-received. Surprised me, to be honest, I thought it might not go over too well with the wine-folk and beer wholesalers we had, but I guess I was worried about nothing. On to the dinner! The salad course was spring greens dressed with a bacon and caraway-infused vinaigrette, served up with wiener schnitzel medallions and a side of spätzel. Todd had daringly paired it with a Franziskaner dunkelweizen, and scored big: the effervescence of the hefe and its soft, sweet, fruitiness was great with the salad and the meat.
I was doing a short talk on each beer between courses, and blabbed on about the next beer, Goose Island Oktoberfest. I'm actually finishing up my last bottle of it right now, and it's still delicious, a very well-done American Ofest indeed, with that great "juicy" malt character. It was another great pairing for Todd, matched to the sauerbraten (which was now filet with a ginger snap sauce; no marinating necessary, thank you), red cabbage, potato pancakes, and "Viennese Style Baby Peas," which pretty much tasted like wonderfully delicate green peas to me; go Vienna, I say.
In between yakking, shoveling the good grub, and sluicing down some of this good, good beer, I was making my way around to each table. I like to do this at any beer dinner I do, it gives me a chance to get an idea of how people are enjoying themselves, if they have any questions (you'll get the 'well, I didn't really want to slow things down, but since you're here' questions at tableside), pick up on any problems with the meal or the service, and chat with the lively ones in the room. That last bit is just fun, you know?
The beef was followed by a cheese course, with five cheeses selected by Guy from igourmet. I hate to admit this, but...I lost my notes on the cheese, which is killing me, three of them were excellent and great matches with the Bully Porter and La Fin du Monde Todd picked out as 'best bets' with cheese. Again, he was right on the dime, although the cheddar with pickle was a disaster with the Fin (worked great with the porter).
For dessert, it was Black Forest Torte with Rogue Morimoto Hazelnut
. I'll freely admit that I'm not a big fan of the Rogue Hazelnut beer, and I said as much to the dinner crowd. But this...this worked. Again, a very nice pairing indeed.
Todd called me up to the mike, thanked me for coming out, and presented me with a very nice six-pack of beers; the most common one was a New Belgium Abbey, and things went up very quickly from there; some Goose Island one-shots among them. I thanked him and sat down.
Then I was asked to draw the tickets for the raffle. They sold tickets to raffle off a case each of the beers we'd had with the dinner, proceeds benefiting the AIWF scholarship fund to send people to culinary school. A good cause, so I bought some...and so I suppose it was almost inevitable that I would draw my own number on the third pull. "All right!" I yelled them down as they moaned how the fix was in. "I can't even take a case of beer home, do you mind if I give it to the guy who drove me up here?" There was a sound of general assent, so Bobby picked out the case of Goose Island O-fest, a good choice. I suppose we could have invited the people up to our room to drink it...but I was bushed!
We mingled and lingered a bit, but pretty shortly headed upstairs to the room. I typed a bit, Bob watched TV, then we hit the sack. The following morning we were both sure we hadn't slept at all the night before because of how much the other guy snored. Logically impossible, I realize, but I almost believe it was true!
Saturday: Lots and Lots of Good Beer
Bob was sick when we woke up. Not sure what the problem was, finally, but he spent most of the morning in bed. I went down to breakfast and found that the hotel was hosting a reunion of the 509th Composite Group, the "Atomic Bombers," the squadron of B-29s that dropped the bombs on Hiroshima and Nagasaki.
I talked to a few of the veterans on the buffet line, and thanked them for their service to America, then shamelessly eavesdropped as much as possible. One table spent 20 minutes reminiscing about the essentially unlimited ammo they had for plinking, .45 rounds for the M3 "grease guns" and M1911 pistols, .30 rounds for their M1s, and they'd just go off over the hill and shoot all day. Hey, they were young Americans in the 1940s. I'd have done it too!
After that I went back up to the room and watched the first half of the UTex-Oklahoma game with Bob. Oklahoma was kicking butt, which made Bob feel good enough to take me over to the fest at halftime. Unfortunately, he didn't feel well enough to join me, and went back to the hotel, watched the rest of the game, and then headed back to Oklahoma City. (He's made a full recovery, and visited me here a couple weeks later; we drank bourbon and ate immense cheeseburgers in West Trenton.)
I walked into the Century II Exhibit Hall ("It looks like a big flying saucer," people told me at the dinner, and they were right) and shamelessly cut the line to get my vendor badge and find my spot at the Glazer's Wholesalers table, the booze sellers Todd worked for. This was not the kind of beer festival I was used to, though I have seen them before. There was only one brewery, River City. All the other beers were from wholesalers.
Are you disappointed? Thinking "That sucks!"? Fine. You stay home next time, and I'll drink your share of the Orval, Pilsner Urquell, Odell's, Rogue, Boulevard, Czechvar, Salvator, Celebrator, and Optimator, Sierra Nevada Everything, Moretti La Birra Rossa, New Belgium Triple and 1554, Chimay, Sam Smith, Cooper's Stout, Goose Island, Staropramen, Portland Uncle Otto's, Hacker-Pschorr O-fest... Get the picture? Oh, wait, forgot to mention: I was standing right beside the Unibroue, which was being served by a knockout handful of righteous African-American womanhood. Ahhh, me.
I stayed cool. No, I didn't. I started reaping the bounty as I went around picking lagers for my "Luscious Lagers" seminar at 3:30. Wish I could tell you what we drank there, but all I can remember is Budweiser (for calibration and identification of "lager"), Pilsner Urquell (cuz you gotta), Tsingtao (just so people know it IS a pilsner, and not "Chinese beer"), and Optimator , to kick some butt. There were two others, damned if I can remember which ones.
It was a rollicking half hour with lots of questions pumped to me by Dan McConnell, a guy I'd "met" online years before when he was living in Philadelphia, but had only met in person an hour before. He's teaching in Wichita, saw I was going to be there, and suggested we meet up. Glad we did, he set me up with some good questions!
I also finally got to meet Jeff Stanley. Jeff used to work for Pony Express Brewing, now he works for Boulevard. I came across him back in, ohhhh...1997? I was hitting the USENET beer newsgroups and came across this guy obsessed with draft systems. I would wind up quoting Jeff in a couple stories, and learning a lot about draft beer from him. It was great to finally meet him, although we unfortunately didn't get to do much more than talk for about 10 minutes.
With the seminar over, I went back to my spot and let myself be plied with Unibroue. God, it was wonderful. Unibroue, some Odell's Cutthroat Porter, some Orval, a little Celebrator, some Rogue Shakespeare Stout. By the time the fest was over, I was gently sizzled. Not drunk by any means, but pretty damned happy with the world. So when Todd asked if I wanted to come out to his house and see his beer collection, well, sure! So we loaded our stuff in his Saturn SUV and headed west. About 15 miles west, I think, then got off the Interstate onto a damned dirt road! Turns out Todd and Elise live on the edge of her parent's farm (leastways, I think I got that right), which is right out there in the prairie beauty. Take a look at the prairie beauty over there.
Boy, that's beautiful. So we trooped into Todd's house and down to the basement where, let me tell you, this man had quite the collection of beer bottles. Thousands of them, and some I didn't recognize. He had full ones, too! And a bar, where we tucked into some surprisingly good homebrew (and one that wasn't, to which Todd said something along the lines of "Life's too short!" and dumped it), some excellent craft brews, and the leftover cheese from the dinner the night before. Elise joined us, and we had fun talking beer and life and all that. Good folks, and I really enjoyed the visit.
Eventually we realized that we should go join the post-fest party at Guy and Beth's house. And we did, and it was a good time: lots of leftover fest beers (I drank 22 oz. Rogues the rest of the night, thank you), lots of pizza, good nibblie stuff, and lots of happy, exhausted people. Guy was having a hell of a good time, and was really fun to be around; the man's a dervish of enjoyment.
Finally, Todd and Elise bundled me into the Saturn and took me back to the hotel, where I took my leave of them. I packed everything up, watched a little TV, and sacked out. After an early breakfast with the Atomic Bombers, I had an uneventful trip home, and happily rejoined my family. Great trip to new territory, good times with old friends and new ones, and if there were a few not-so-good beers, there were sure a whole lot more good ones to look back on.

12/21: Chris Trogner, Ed Yashinsky, and John Trogner try to act natural. Chris obviously has more practice.

12/21: A pretty little town in the winter.

12/21: The bar at Selin's Grove. An almost medieval feel to it, but a live one, not a "faire" feel.

12/21: The bar at Mastracchio's. Come on, stop by, willya?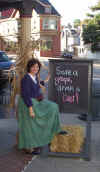 Is it any wonder I love her?

10/6: Bob "King Homebrewer" Rescinito at home

10/7: Shaneen & Rick Huebert, and Bob

10/7: Bob outside the Bricktown Brewery (the best place to be...)

10/7: The mellow glow, the long line of taps: Tapwerks

10/7: Bob heads for the beer at Coach's

10/7: Jörg Kühne and a serving tank.

10/8: Bob (in Grey Lodge T) at River City brewpub

10/8: River City brewer Dan Norton tells all.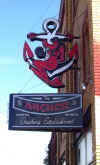 10/8: The Anchor's sign. Sorry, my interior shots all sucked.

10/8: Todd Lange and I scope out the beers we'll be enjoying. Does he look like Bill Covaleski's cousin, or what?


10/9: Jeff Stanley, draft genius, displays a Boulevard Bob's 47 for the crowd (real nice malty lager, by the way)
11/23: Magic Hat Heart of Darkness Stout: dry stout, 5.3%ABV, Magic Hat Brewing Co., Burlington, VT (12 oz. bottle, brewery sample) Nice pour. Very dark, a bit thick, and a good tenacious cap of light brown foam. Oh, good beer. I can smell this one as I bring it up to my lips, the smoky, burnt roasted barley and sweet crystal malt under it, and the taste delivers exactly that, but in a nicely understated way. There's a strong cut from the roasted barley, nicely handled, and some real hop bittering going on as well. I'm liking this one, like to come across it on draft in a snow-bound inn.

11/23: Magic Hat Batch 369: style unknown, ABV unknown, Magic Hat Brewing Co., Burlington, VT (12 oz. bottle, brewery sample) Coppery brown in color, nice clear sample. Very hoppy nose, citrus slash in there with some malt. Earthy, musty flavor, kind of thin, a sharpish edge to it, and no focus. This is what I usually don't like when I don't like Magic Hat beers: a lack of direction. I appreciate the idea of not brewing to style, but this beer just leaves me hanging. It's got the hoppy thing going -- hops belch is there, and a long bitter finish -- but the beer itself is thin and almost dirty, muddled. Its malt and hops are going north and south, and Ringwood, which I usually adore, leaves me in the lurch here. Not to my tastes, this one.

11/23: Evan Williams Single Barrel Vintage Bourbon 1994: Straight Bourbon, 43.3%ABV, "Old Evan Williams Distillery" (Heaven Hill), Bardstown/Louisville, KY (750 ml bottle, distillery sample). God bless Heaven Hill. I ran into them at WhiskyFest -- okay, I made a beeline for their booth, I like these guys and their whiskey. And after we moaned over an extremely limited sample of Very Very Special Old Fitzgerald (so damned rich, wonderful stuff; I got about half an ounce) and a 15 year old rye (I got more of that; later), they asked me, how come no review on the 1994 Evan Williams? Well...okay. I'm taking a sip of the big 1995 first, the current release, just for calibration. Now let's do the 1994. Fruity nose, fresh corn, a bit of chocolate, very Heaven Hill. Big whiskey, plenty of corn, lots of sweetness, but some dry notes upfront, almost leathery, that fade quickly in the roar of honeyed corn. A delicious, lingering finish. Big whiskey, but very drinkable; there's no doubt in my mind that after this tasting's done, I'm pouring myself some more of this one...which gives you a pretty good idea of what I think about it.

11/21: Stoudt's Triple: triple-type abbey ale, 9.0%ABV, Stoudt's Brewing Co., Adamstown, PA (12 oz. bottle, brewery sample). The last of the Stoudt's samples I recently received. I haven't had a Stoudt's Triple in...oh...five years? So this is a tasting uncluttered by preconceptions. Let's see...A nice translucent orange color, kind of apricot jam in color. Big foamy white head, very active. Lot of mung on the bottom; definitely bottle-conditioned as advertised. Yeasty fresh, sweet and just a touch funky aroma. Whoa...lot of beer, here. This triple isn't sweet and orangey like Grimbergen, nor is it dry and spicy like Westmalle. Stoudt's treads a middle ground, where the malt actually comes through quite strongly, hung with restrained sweet orange notes and crowned by yeasty spice. There is a beautiful creaminess to this beer that folds the tongue almost like meringue before falling away in a wash of sweet malt. Beware, my friends, this drinks more like a 7% beer than like the 9% brain-wallop it truly is. Just a little bit cloying, but I can't really fault it for that; I like the way it's kind of sticky in my mouth. Good beer, good triple. An amazing run of beers from Stoudt's.

11/21: Stoudt's Winter Ale: amber rye ale, 6.0%ABV, Stoudt's Brewing Co., Adamstown, PA (12 oz. bottle, brewery sample). I know I'm not the most faithful of reviewers, I try these beers or not, as it suits me, but this...this is a tremendous change in an established brewery. I have to do these. That's why. Anyway, to the beer. It is a medium amber in color. The nose is sweet, with just a spicy hint of hops. The beer itself is medium-bodied and sweet, with a floral kiss of hops that keeps it light on the tongue. There's a chocolate wash in the back, and some real hop-lash in follow-up belches (hey, wine drinkers spit, I can belch. Any real hop-lover knows that belch is important in gauging hop intensity). There's a nice caramel note here as well. Nice beer, but "Winter Ale" is not what springs to mind. Maybe that's a flaw in my imagination. The hop and sly, spicy rye note is growing on me by the end of the beer.

11/12: Stoudt's Double IPA: 'imperial' IPA, 10.0%ABV, Stoudt's Brewing Co., Adamstown, PA (12 oz. bottle, brewery sample). Okay, let's look at this. First, the ringing Pilsner. Then the Really Fat Dog Stout. Now this Double IPA that is just blowing me away (huge hop character, 75+ IBU, an immense beer). I think we're looking at a whole new Stoudt's here. For sure, this beer is like nothing they've ever done: it's resoundingly hoppy, stuffed with sweet hop flavor and aroma from multiple kettle additions and "generous" dry-hopping; it's huge in the malt department but hardly cloying, and it's bottle-conditioned. It's astounding, is what it is.

11/5: Stoudt's Fat Dog Stout: imperial oatmeal stout, 9.0%ABV, Stoudt's Brewing Co., Adamstown, PA (12 oz. bottle, brewery sample). The Fat Dog's never been fatter. Bumped up from a "foreign" stout at 6%, Fat Dog Stout is now a cruising, howling canine monster, a 9% imperial oatmeal stout that is rotund with malt (roasty, a bit rough, graham and bitter chocolate), hefty in body and bite, and smooth and full in the mouth. Good boy!

11/4: Evan Williams Single Barrel Vintage Bourbon 1993: Straight Bourbon, 43.3%ABV, "Old Evan Williams Distillery" (Heaven Hill), Bardstown/Louisville, KY (750 ml bottle, distillery sample). The folks at Heaven Hill were nice enough to send me the 1995 Evan Williams Vintage, and I thought I'd stack it up against the 1993. Identical proof, identical glasses, identical temperatures. Here goes. Spicy and sweet nose, corn and animal crackers, mint and a slight peppery note. Sweet corn in the mouth, vanilla and wood around the edges, only mildly assertive, not a barn-burner. Hints of orange in the finish, some wood around the edges. The lasting impression is of smooth sweetness, tapering to a quiet finish.

11/4: Evan Williams Single Barrel Vintage Bourbon 1995: Straight Bourbon, 43.3%ABV, "Old Evan Williams Distillery" (Heaven Hill), Bardstown/Louisville, KY (750 ml bottle, distillery sample). Now the 1995. Corn, orange, a smooth flow of sweet good stuff over the nose. There's more stuff here than in the 1993, more going on. Corn and vanilla, to be sure, but the fruit's still here (sweet orange and sharp pineapple), there's solid wood dryness, but equally solid layers of sweet candy, and a finish that goes on and on. Two truly good whiskeys, but the 1995 is a much more massive whiskey with plenty of guts to it.

10/25: Stoudt's Pils: Pilsner, 4.7%ABV, Stoudt's Brewing Co., Adamstown, PA (12 oz. bottle, purchased at Centre Beer, Newtown, PA). At last, at last: Stoudt's Pils in 12 oz. bottles! And well worth the wait, too: this soft, crisp pilsner is not ripped with hops, but instead has a firm bitterness that provides a solid border for the clean malt body. It's hard to drink just one of these, and evidently more people than just me are having that problem. Sales of the Pils have exploded since the 12 oz. bottles came out. It's about time!

10/23: Weyerbacher Insanity: bourbon-aged barleywine (Blithering Idiot), 11.0%ABV (at least: prior to barreling), Weyerbacher Brewing Co., Easton, PA (12 oz. bottle, festival pour). Heresy's brother has at last seen the light of day. Bourbon barrel-aged Blithering Idiot proved as huge as suspected, the whiskey blending well with the massive malt of the Idiot, lots of vanilla, wood, and big beer fruitiness. I still like the Heresy better for its greater depth of character, but I would love to try an Ultimate Black & Tan with the two of them.

10/20: Tröegs Mad Elf: Belgian-style strong ale with cherries and honey, 11.0%ABV, Tröegs Brewing Co., Harrisburg, PA (12 oz. bottle, brewery sample). I was not really a big Mad Elf fan in the past. I just didn't get it: it's sweet, it's a pretty color, it's strong, and...that's about it. I DID like a tank sample growler that John Trogner brought to a Friday the Firkinteenth two years ago, and now I know why: yeast. Brewery everything-man Ed Yashinsky sent me out a bottle three days ago, and I chilled it quick: my wife likes it. Ed told me that the beer had been tweaked to let more of the yeast character come through (thank God some American brewers are finally getting this), and they do have a nice yeast here. This was a rolling mouthful, mostly that yeast-spiciness that says "Belgian" (or "Bavarian:" blind taste a really good dubbel with a really good weizenbock sometime, and you'll maybe see what I mean), with only hints of cherry. The power is subdued and smooth, the beer is not overly sweet. Much better, thank you, and recommended.

10/20: Magic Hat Participation Ale: brown ale, 4.0%ABV, Magic Hat Brewing Co., Burlington, VT (22 oz. bottle, brewery sample) A beer released for the presidential election, and that's too bad: I liked this Magic Hat quite a bit. Participation pours dark brown, floating big cocoa notes off the top. The mouth is medium and mellow, not heavy, not burnt, not cloying: drinkable and delicious. This tasted great even after I'd punished my tongue with the big DuClaw Serum; pretty impressive. I vote yes on Participation Ale.

10/20: DuClaw Serum IIPA: IIPA, 8.0%ABV, DuClaw Brewing Co., Abingdon, MD (growler) Serum is the big brother of DuClaw's Venom IPA, a nice naming twist that goes well with the "biohazard in the liquid nitrogen freezer" look label Jim Wagner ginned up for this special 1 liter growler. Serum isn't an over-the-top IIPA, but it's plenty big. You could feel the 8%, hot but not rough; you could feel the hop-smack, sharply citric and pithy, but not tongue-cringing bitter. One of the nicer IIPAs I've had, but by no means the most assertive: to be honest, I've had IPAs that were more astringently bitter. I suspect that's exactly what Jim was aiming for. Get some.